You'll always be invited to the party if you bring a pan of these sinfully rich (but incredibly simple) Butter Pecan Turtle Bars.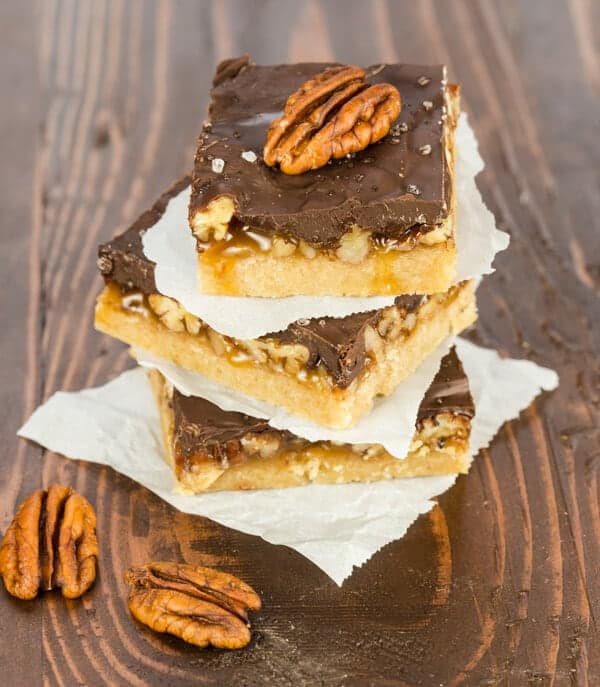 This is the quintessential "I need to bring a dessert to a potluck" dessert. Quick, easy and always crowd-pleasing, these Butter Pecan Turtle Bars will pretty much guarantee your name will be at the top of the guest list for every neighborhood gathering for the foreseeable future.
These bars do require a few hours of cooling time, so sadly you can't whip them up 15 minutes before the event. But we think that's a pretty small tradeoff for the decadent result. We're talking a swoon-worthy combination of buttery shortbread, crunchy pecans, creamy caramel and rich dark chocolate. A sprinkling of sea salt on top is the perfect finishing touch.
These babies are RICH, so make sure you cut them into smaller size bars. Of course, eating two smaller bars is just the same as eating one regular size bar, but deceiving appearances totally work in your favor on this one. Go with it.
Yield: 30-36
Butter Pecan Turtle Bars
These simple but rich bars are great for a party!
Ingredients
2 cups flour
1 cup brown sugar
11 tablespoons cold butter, diced
1 1/2 cups chopped pecans
1 (12-ounce) jar caramel sauce
1 (12-ounce) bag dark chocolate chips
Flaky sea salt, optional
Instructions
Preheat oven to 350 degrees. Line 9 x 13 pan with parchment paper so the paper laps over all the edges of the pan. Set aside.
Stir together flour and brown sugar. Add butter and use a pastry blender, two forks or your fingers to work the butter into the flour mixture until it resembles a coarse meal. Press crust into the bottom of the prepared pan. Sprinkle pecans evenly over crust. Gently pour caramel over pecans. Bake for 15-20 minutes or until caramel is bubbly.
Remove from oven and sprinkle with chocolate chips. Let sit for 5 minutes. The chocolate chips will begin to melt. Carefully spread chips over bars. Sprinkle with sea salt, if desired.
Allow bars to completely cool to room temperature (usually about 5 hours). Grab edges of parchment to remove bars from pan. Cut into squares. Store in an airtight container.