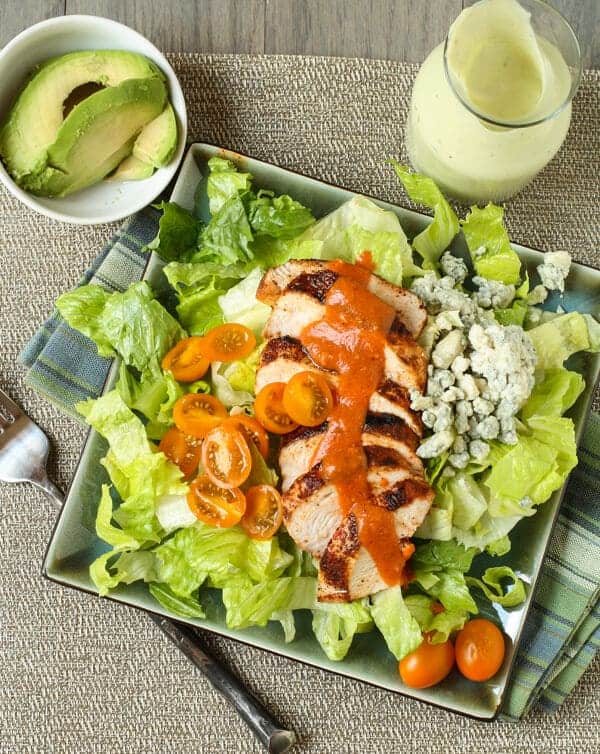 There is nothing better on a hot summer day than a nice big salad. One of our summertime favorites is this Grilled Buffalo Chicken Salad with Avocado Ranch Dressing. Buffalo wings are one of my husband's biggest weaknesses, and with this recipe I can satisfy his craving while keeping the caloric intake under control. It's made with seasoned grilled chicken, and I serve it on a HUGE pile of chopped romaine. Beats the few celery sticks usually eaten as greens with wings 🙂 Now don't get me wrong, I love a good buffalo wing too – just trying to suggest (force) healthier choices for my family. 
Let's talk about this Creamy Avocado Ranch Dressing. Hello, Goodness! It's super creamy and rich tasting without all of the fat. You won't find any mayo or sour cream here – just creamy avocado and plain yogurt seasoned to perfection. It's an ideal balance to the spicy buffalo sauce. I love this stuff. And here's a little secret I'll share with you: Store the dressing in a glass jar with plastic wrap right on the top of the dressing. Screw the lid on tight, and it will stay fresh for a few days without turning brown from the avocado. Love! 
I usually prep this entire meal ahead of time and assemble it when it's time to eat. Grilling the chicken earlier in the day and then slightly heating before serving is the way to go because the lettuce doesn't wilt from the hot-off-the-grill chicken. And it's a huge timesaver at that crazy busy time of the day. (Read: Perfect for entertaining or hectic nights.)
Do you make a healthier version of your favorite craving at home? Share yours in the comments below!
 


Yield: 4-6
Buffalo Chicken Salad with Avocado Ranch Dressing
A grilled buffalo chicken salad with a creamy avocado ranch dressing.

Prep Time 15 minutes

Cook Time 15 minutes

Total Time 30 minutes
Ingredients
4 boneless, skinless chicken breast
Chili Powder
Paprika
Olive oil
½ cup Buffalo Sauce (room temperature)
2 Tablespoons melted Butter
8 cups chopped Romaine Lettuce
½ cup gorgonzola crumbles
1 cup sliced grape tomatoes
1 avocado cut into wedges
1 avocado, peeled and pit removed
¼ cup greek yogurt
¾ /cup plain yogurt
¼ cup buttermilk
1 T distilled white vinegar
1 T lemon juice
¼ teaspoon cracked, black pepper
¼ tsp salt
½ tsp sugar
½ teaspoon chopped fresh parsley
¼ teaspoon onion powder
1 garlic clove, minced
½ T chopped fresh chives
Instructions
Sprinkle both sides of chicken breast with chili powder and paprika. Drizzle with olive oil and rub to coat the chicken. Set aside for 30 minutes to let flavor develop. I did not add amounts on purpose. I sprinkle the chicken until it is lightly coated with each spice. Adjust to your taste.
Grill chicken over medium heat until cooked through. About 12- 15 minutes. Let rest for 10 minutes for juices to redistribute. Slice chicken on the diagnol and set aside.
Combine melted butter and buffalo sauce and pour over grilled chicken slices.
Place all ingredients in blender and mix until smooth.
Place chopped romaine on plate and top with buffalo chicken, gorgonzola cheese, tomatoes, and avocado.
Serve with Avocado Ranch Dressing