Indulge your sweet tooth this St. Patrick's Day with this decadent Bread Pudding with Salted Caramel Whiskey Sauce!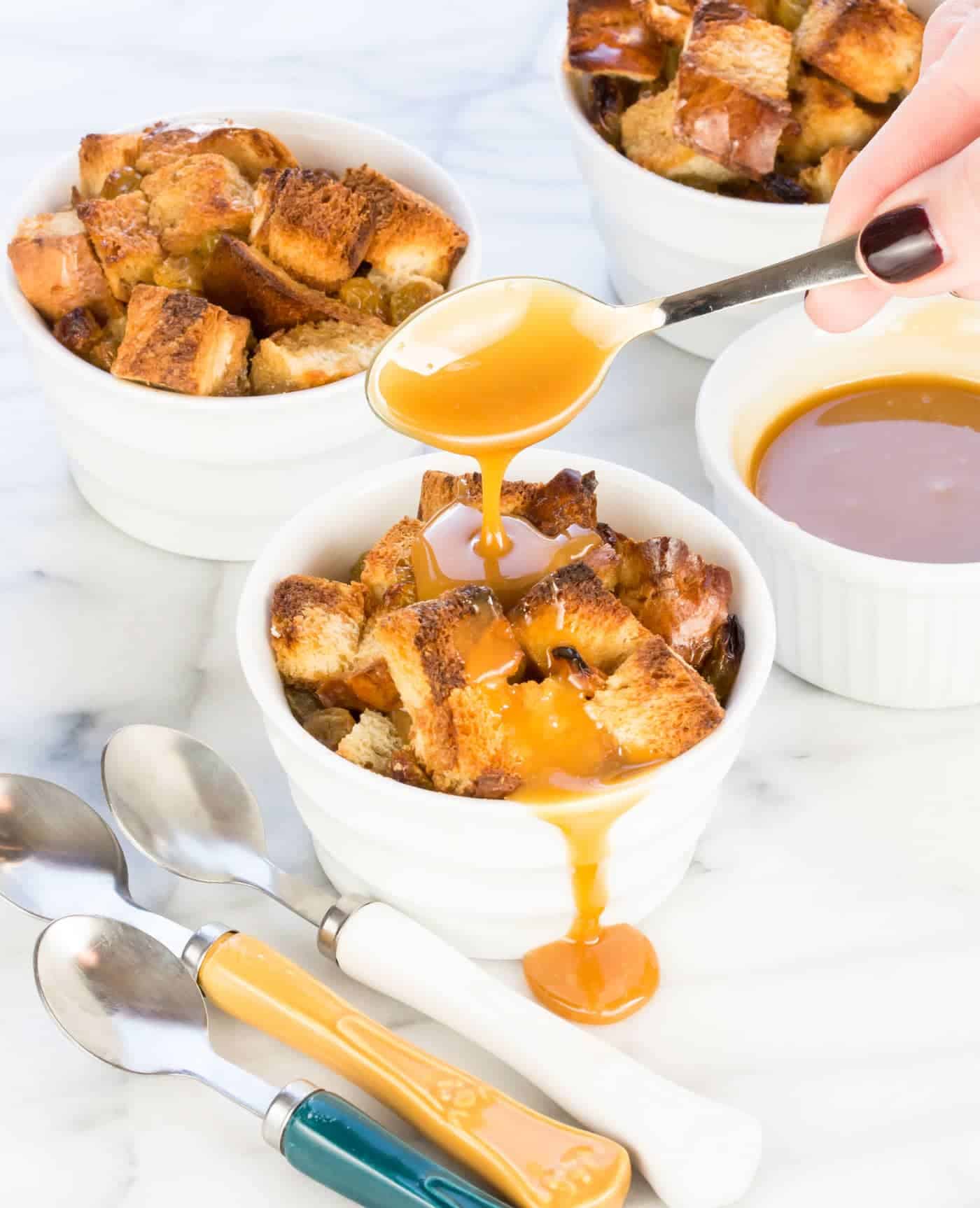 Everyone's a little bit Irish on St. Paddy's Day, right? I am proud to be part Irish, but if I wasn't, I'd fib just a little if it meant I could enjoy more of this Bread Pudding with Salted Caramel Whiskey Sauce. St. Patrick's Day isn't all about corned beef and Irish whiskey, but I'm always grateful for any excuse to make this dessert. It's just that good. And I'm a stickler for bread pudding. No dense masses of soggy bread for me.
This recipe practices restraint. It has less liquid than most, and, as a result, you can actually taste the individual ingredients rather than a bowl of eggy custard. And what yummy ingredients they are: buttery Challah, rich molasses, whiskey-soaked raisins, and, of course, the heady spices of cinnamon and ginger. Toasting the bread cubes before combining them with the liquid is a must. Try it. You'll find that your bread pudding retains more texture when baked.
Since St. Patrick's Day IS a celebration, I had to take this dessert one step further and add a rich salted caramel whiskey sauce to fill in all of those nooks and crannies in the bread pudding. Nirvana! This recipe can be easily made without the whiskey. Simply plump your raisins in boiling water and omit the whiskey in the sauce (though that means you are clearly NOT Irish.) Note the caramel sauce will harden quite a bit as it cools without the extra liquid from the whiskey, so you'll need to reheat it to make it pourable.
No matter how you plan to celebrate St. Patrick's Day, this Bread Pudding with Salted Caramel Whiskey Sauce is a delicious way to end your festivities. Lucky you!
Bread Pudding with Salted Caramel Whiskey Sauce
Make restaurant quality bread pudding at home when you follow this easy recipe!
Ingredients
Bread Pudding:
1

pound

challah bread

cut into 1-inch cubes

1

cup

golden raisins

plumped in whiskey for 1 hour and drained

Butter for greasing the baking dish

es

3

large eggs

¾

cup

sugar

½

teaspoon

cinnamon

¼

teaspoon

freshly grated nutmeg

¼

teaspoon

ground allspice

¼

teaspoon

ground ginger

1

teaspoon

pure vanilla extract

¼

teaspoon

salt

3

cups

whole milk

2

tablespoons

molasses
Sauce:
1

cup

sugar

6

tablespoons

water

4

tablespoons

butter

¼

c

heavy cream

¼

teaspoon

sea salt

2 - 4

tablespoons

whiskey
Instructions
Bread Pudding:
Preheat the oven to 375° F.

Spread the bread cubes on a baking sheet and toast in the oven for 6-8 minutes.

You can use either a 9 x 13 baking dish or ramekins to make the bread pudding. Depending on the capacity of your ramekins, you'll need anywhere from 8-12 ramekins. Butter your baking dish(es). If using ramekins, set them on a baking sheet.

Use a handheld mixer to beat together the eggs and sugar. Add the ground spices, vanilla and salt and mix to combine.

Heat the milk and molasses until lukewarm (either on the stove or in the microwave). Gradually add the warm milk to the egg mixture and beat until combined.

Place half of the bread cubes in the ramekins or in the baking dish. Sprinkle the raisins over the bread cubes and top with the remaining bread cubes. Pour the custard evenly over the cubes. You'll need to move around some of the bread cubes to make sure they get soaked by the custard. Let stand for 5 minutes. Bake for 25-35 minutes until the top is browned and the pudding is set. Let rest for at least 15 minutes before serving.
Salted Caramel Whiskey Sauce:
Place sugar and water into a saucepan over medium low heat and occasionally stir the mixture until the sugar has dissolved. If you find sugar crystals forming on the side of the pan, dip a pastry brush in cold water and wipe them away. After all of the sugar is completely dissolved, increase the heat to high.

Keep an eye on the caramel but do not agitate it. This means no stirring. Occasionally grab the handle of the pan and swirl the sugar water mixture to ensure it is cooking evenly. The color will start to change and darken after 5-8 minutes. You want it a dark amber but not burnt. When the sugar water mixture has reached the desired color, stir in the butter and heavy cream. The mixture will bubble wildly. Whisk to combine. Set aside to cool for 10 minutes and then stir in the salt and whiskey.
Nutrition
Serving:
1
cup
Calories:
403
kcal
Carbohydrates:
64
g
Protein:
8
g
Fat:
12
g
Saturated Fat:
6
g
Polyunsaturated Fat:
5
g
Cholesterol:
90
mg
Sodium:
319
mg
Fiber:
1
g
Sugar:
43
g
Nutrition info not guaranteed to be accurate.