Kick off your next happy hour with a round of these gorgeous Bourbon Aperol Cocktails!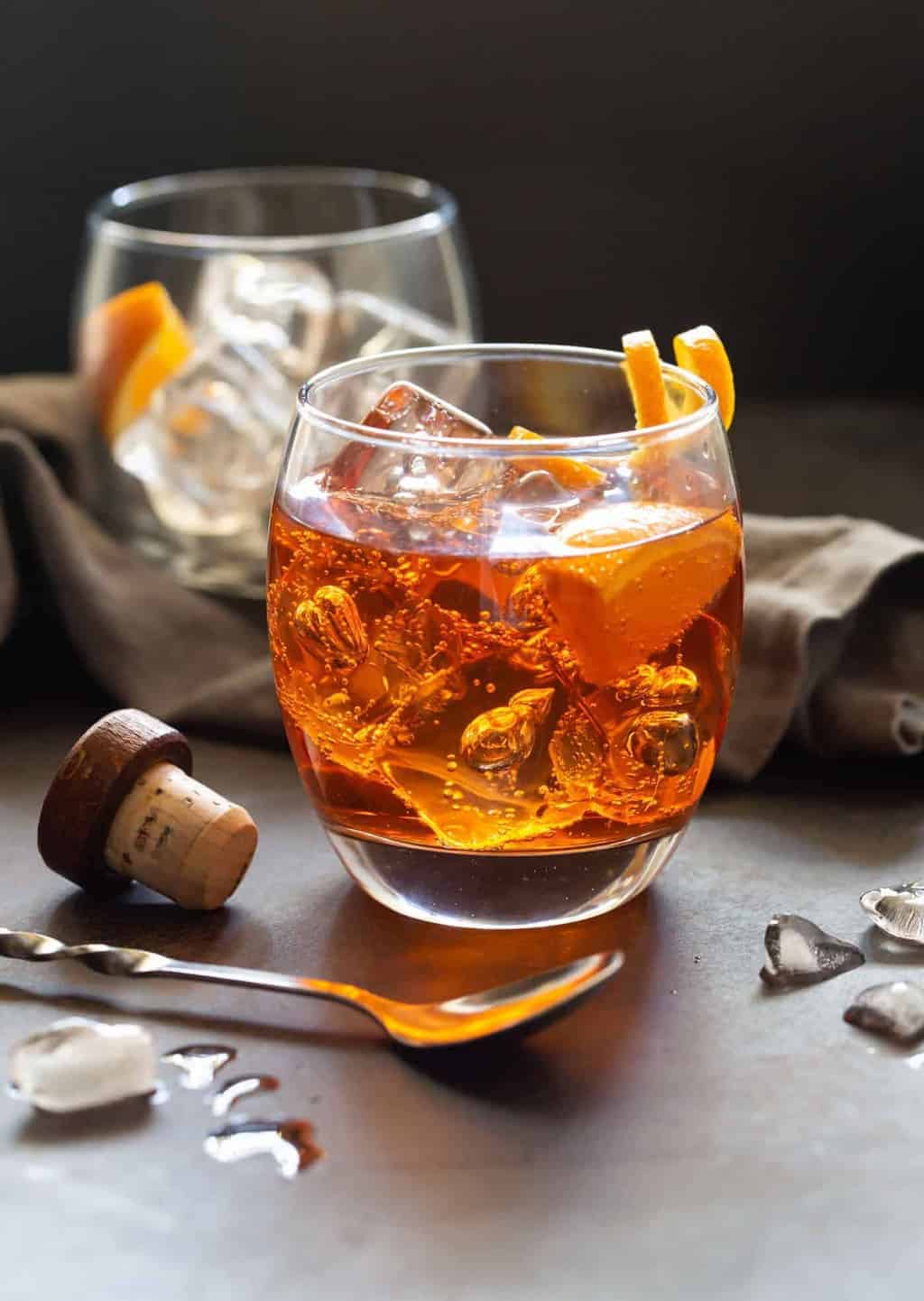 Changing seasons mean shaking up our cocktail routine. Out goes the gin and tonic and in come the old fashioned.
But that doesn't mean you have to give up on your favorite summer flavors entirely. Just add a seasonal twist to them like we did with these super-sippable Bourbon Aperol Cocktails!
Bourbon Aperol Cocktail recipe
The bourbon lends a bit of heft to what would otherwise be a lighter cocktail made from tangy Aperol, bubby Prosecco and a splash of simple syrup - a perfect meld of flavors to match the change in the seasons.
You'll definitely find these eye-catching Bourbon Aperol Cocktails making an appearance at our Thanksgiving Day feast. They will pair perfectly with our pre-meal grazing, including munchies like these Bacon Cream Cheese Bites.
Signature cocktail? Done.
But why limit these beauties to just special occasions? I'd definitely whip up a batch of these for friends and family coming over to watch the big game. Or even as a tasty twist on an eye-catching orange Halloween cocktail.
Are you an Aperol newbie? Read on for all you need to know about Aperol and how to use it: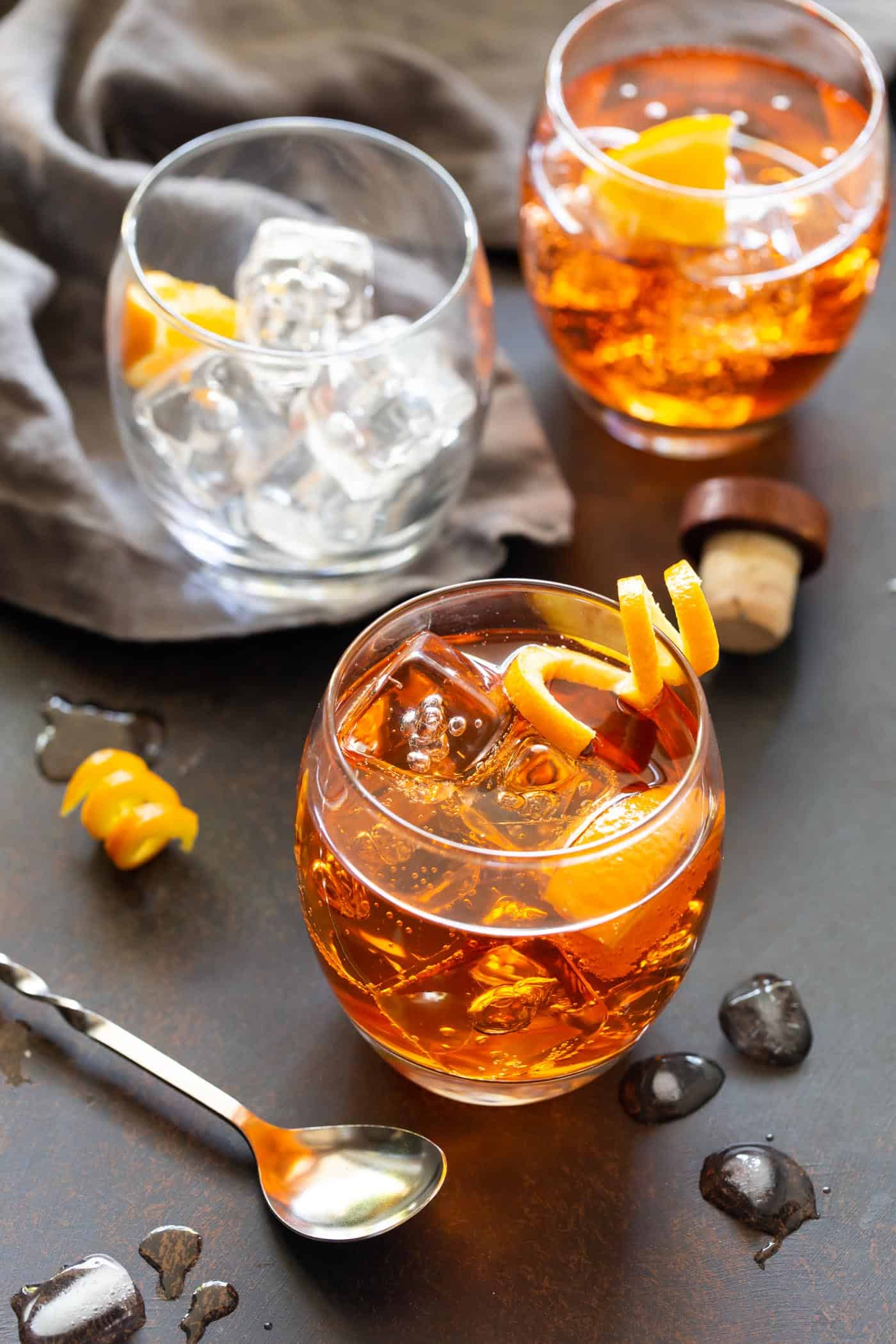 What is Aperol?
Aperol is an bright orange-hued Italian aperitif that is often served to help stimulate the appetite before a meal.
Most people don't drink Aperol straight up because of its unique flavor (think slightly sour orange, tart rhubarb and a bit of bitter herbs all mixed together).
Instead Aperol is mostly used in combination with other wines and/or spirits in cocktails so you get just a hint of the mandarin flavor in harmony with other ingredients.
What's the difference between Campari and Aperol?
Campari and Aperol are often confused with one another. For starters, they are both owned by the same company and have a similar flavor. Plus they are both orange in color, though Campari is a deeper, richer color than Aperol.
The uses for these two aperitifs is profoundly different. Aperol is the "lightweight" of the two, clocking in at 11% alcohol which Campari easily surpasses 20+% alcohol, depending on the brand.
Aperol was originally created in the early 20th century in Italy as a more refreshing aperitif alternative. Because of the bolder flavor and higher alcohol content, you'll find Campari listed as an ingredient in boozier cocktails (think Negroni) while Aperol is usually added to lighter drinks.
So what other cocktails can I make with Aperol?
The most popular cocktail to make with Aperol is an Aperol Spritz. This drink has only three ingredients - Prosecco, Aperol and a hint of sparkling water. You'll find recipes for Aperol Spritzes on every restaurant menu that boasts a summer patio. 
But Aperol's low alcohol content also makes it a good mixer with gin, too, like in our popular Aperol Gin Cocktail that is muddled with a bit of cucumber for extra refreshment. 
Aperol also plays nicely with tequila. Our Grapefruit Aperol Cocktails are a tasty twist on a crowd-pleasing margarita recipe. Try it and see if anyone can detect the "secret" margarita ingredient!
Should I use bourbon or whiskey in these Aperol cocktails?
Ah, the age old bourbon vs. whiskey debate. To make things as clear as mud, all bourbon is whiskey but not all whiskey is bourbon (so helpful, right?).
I won't bore you with all the nuances and differences between bourbon and whiskey, but if you're curious, this article from Chowhound does a nice job of explaining it in more detail.
Both bourbon and whiskey work equally well here, so feel free to use your favorite in this cocktail.
What type of bourbon do you use for this Aperol cocktail recipe?
My first piece of advice is this: no need to break the bank on a fancy, expensive bottle of bourbon. Save that for sipping neat or over ice. 
I chose a "fruitier" bourbon (Four Roses) for this Bourbon Aperol Cocktail because it complements the orange wedge and orange twist so well, but don't rush out to buy that brand. Your favorite bourbon (or whiskey) will do just fine here. 
How do you make the fancy orange twist for this cocktail?
I actually had to google this one a few times before I found a method I like, but this one seems to work the most consistently:
Cut a thin slice of orange.

Carve out the interior fruit, leaving the rind and a just a bit of the pith intact.

Make a small cut in the rind so it is no longer a circle and you have one long piece of rind. At this point you can trim the size of the rind to make a smaller twist or leave it long for a larger twist.

Tightly twirl the rind around your finger, a pen or even a chopstick and hold together for a few seconds to help the rind retain its shape.
If you find your twist isn't staying in a curled shape, try cutting off a bit more pith to make the rind more malleable.
Not into fancy garnishes? No worries. You can just add a wedge of orange to each cocktail and call it good.
Jump start your next happy hour with a splash of color and a round of these eye-catching Bourbon Aperol Cocktails. This is one signature cocktail that never fails to impress. 
Looking for more bourbon cocktails? We have a ton of tasty options!
Yield: Makes 1 cocktail
Bourbon Aperol Cocktails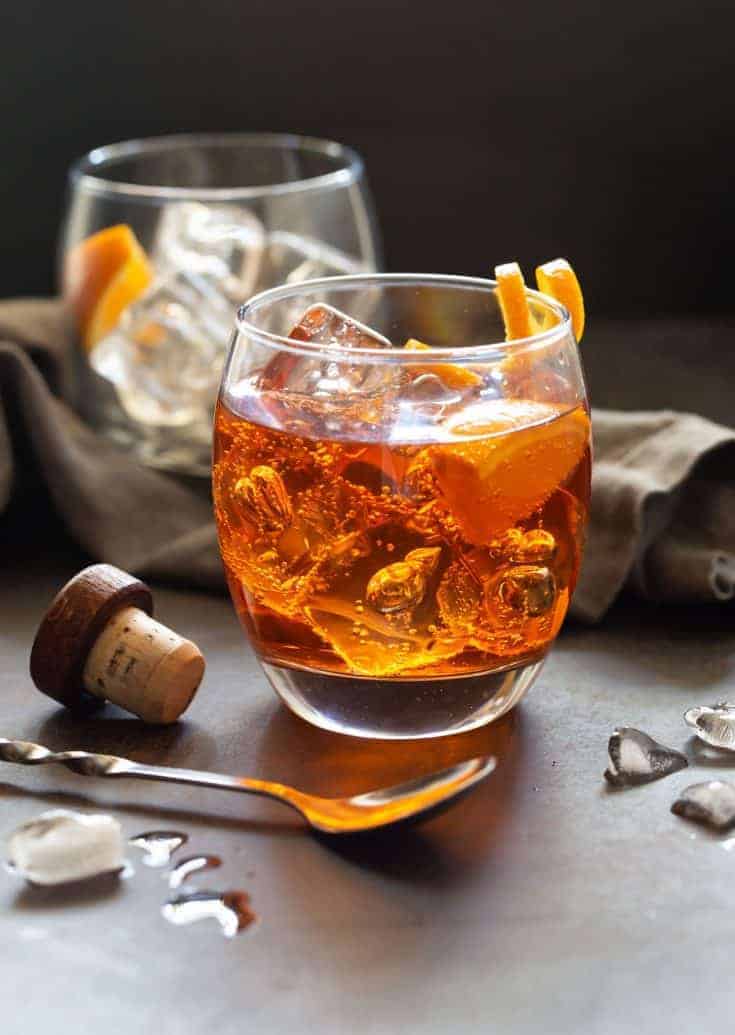 Need a signature fall cocktail? Look no further than these eye-catching Bourbon Aperol Cocktails made with Bourbon, Aperol, Prosecco and a touch of simple syrup. Perfect for tailgating, Halloween or Thanksgiving!
Ingredients
1 1/2 ounces bourbon
1 ounce Aperol
1/2 ounce simple syrup
orange wedge
3 ounces Prosecco
Instructions
Place bourbon, Aperol and simple syrup in a lowball glass filled with ice.
Squeeze and drop orange wedge into glass. Top with Prosecco.
Stir gently to combine.
Garnish with orange twist, if desired.
Serve immediately.
Notes
Adapted from Southern Living
Recommended Products
As an Amazon Associate and member of other affiliate programs, I earn from qualifying purchases.
Nutrition Information:
Yield:
1
Serving Size:
1
Amount Per Serving:
Calories:

331
Total Fat:

0g
Saturated Fat:

0g
Trans Fat:

0g
Unsaturated Fat:

0g
Cholesterol:

0mg
Sodium:

7mg
Carbohydrates:

36g
Fiber:

3g
Sugar:

29g
Protein:

1g
Need a signature cocktail? Look no further than these eye-catching Bourbon Aperol Cocktails made with Bourbon, Aperol, Prosecco and a touch of simple syrup. A delicious fall cocktail for tailgating, Halloween or Thanksgiving!