You've swooned over the restaurant version, but now you can make one of these flavorful pizzas in your own kitchen with this irresistible, homemade BBQ Chicken Pizza recipe!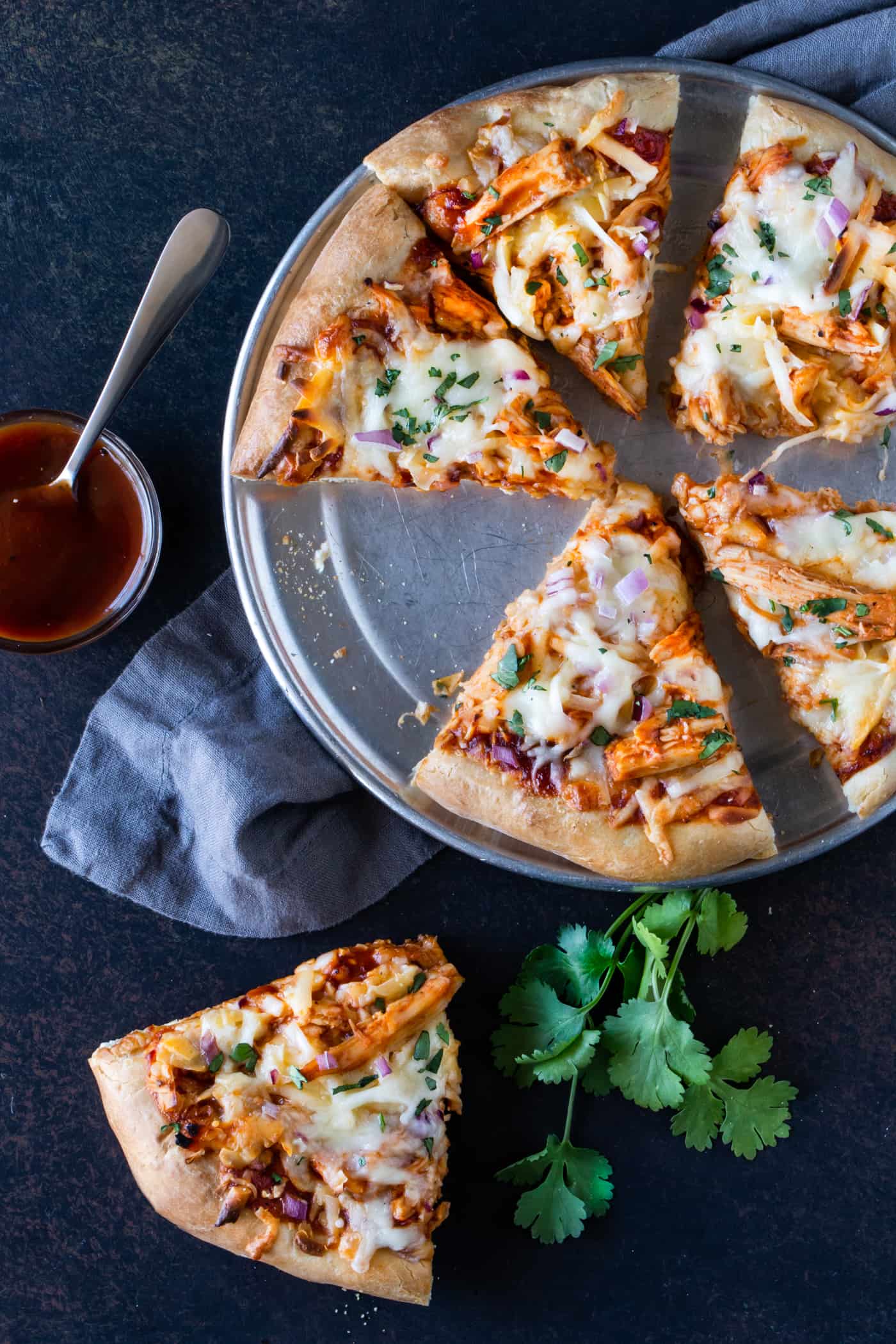 Can there ever be enough varieties of pizza?
Sure, there will always be the purists who deem all other varieties besides pepperoni and sausage as sacrilege, but one bite of this irresistible, homemade BBQ Chicken Pizza might just change their minds.
Many restaurants have versions of this BBQ Chicken Pizza, but it's easier than you think to recreate those layers of flavor at home.
Jump to: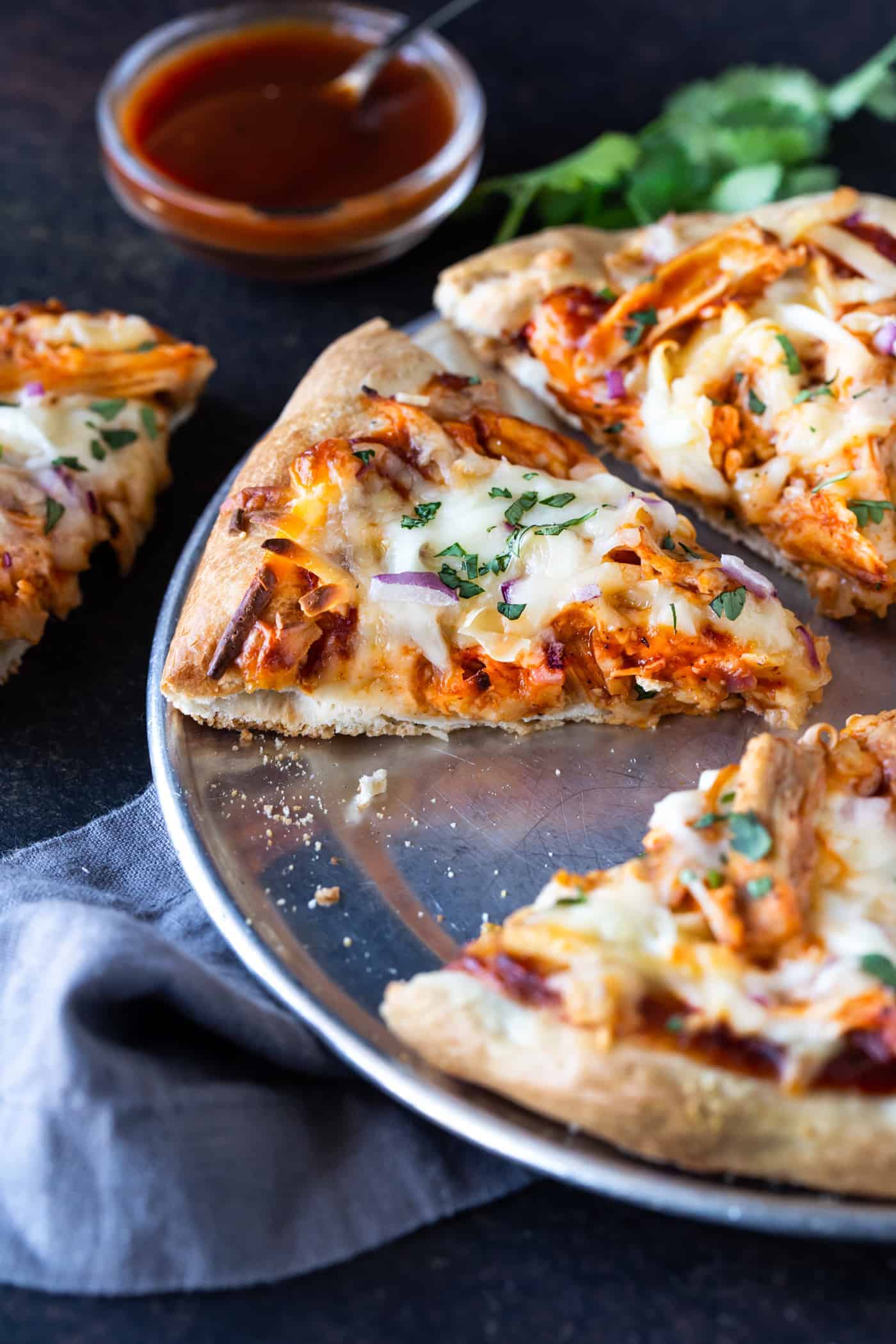 Toppings
The unique taste of this pizza recipe starts with your favorite BBQ sauce (we're huge fans of this brand of BBQ sauces). Generously slather it on your pizza dough and toss it with your roasted, shredded chicken.The next step is key. You want to top your pie with not one, but TWO types of shredded cheese:1. Mozzarella is a pizza must - it melts beautifully and has that sexy "cheese pull" we all love.
2. The second cheese is a popular Dutch cheese, Gouda, that has been lightly smoked. The result is a creamy, buttery cheese with an upscale, distinctive flavor. (You can find it at almost every grocery store but it usually comes in chunks so you'll have to shred your own.)
BBQ Chicken Pizza isn't complete without a healthy sprinkle of chopped red onion on top of the cheese and chicken. But don't forget to add a heaping handful of freshly chopped cilantro when your 'za is done baking.
Pizza Dough
If you're feeling ambitious, by all means make your own pizza dough (Zoe has several super easy and reliable recipes for making your own dough in her Artisan Pizza and Flatbread in 5 Minutes a Day book).But if you're pressed for time like I usually am, grab fresh pizza dough from the grocery store, or you can even use a premade crust. Just shorten the baking time if you do the latter.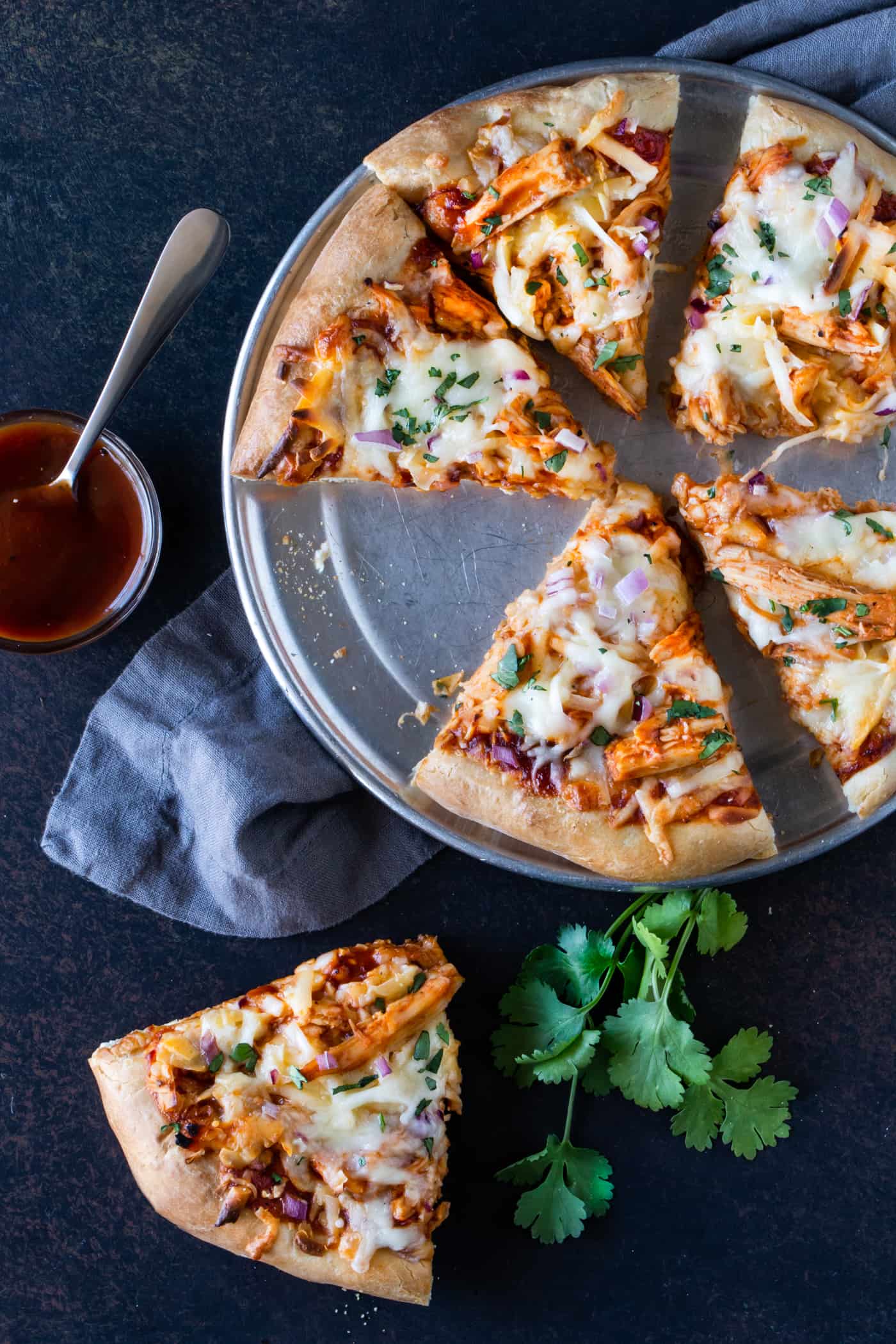 Tips
Hot, hot, hot oven temperatures are key to a successful homemade pizza. Crank that oven up to at least 475 or 500 degrees to jumpstart that cooking process.Another tip is to use a pizza stone.
We have a pizza stone that I always preheat in the oven. It does a beautiful job of retaining heat which results in a more evenly baked pizza.
Occasionally we grill our pizza. Think of it this way: your grill is almost like a little pizza oven. It can throw out super hot heat and circulate the air evenly around your pie when the lid is closed
Grilling pizza is also a fantastic option when summer rolls around and you can't imagine heating up the house with a hot oven.Not to sound like a broken record, but we use our pizza stone on the grill, too.
I know some people have success grilling their pizza directly on the grates, but that has never produced the best results for us (hot spots, uneven cooking, etc.). Using a pizza stone for the grill keeps the heat - and the cooking process - much more consistent
More Pizza Recipes
Recipe
BBQ Chicken Pizza
You've swooned over the restaurant version, but now you can make one of these flavorful pizzas in your own kitchen with this irresistible, homemade BBQ Chicken Pizza recipe!
Ingredients
1

pound

pizza dough

1

cup

BBQ sauce

divided (more if you like saucy pizza)

1 ¼

cups

diced or shredded cooked chicken

3

ounces

smoked gouda cheese

shredded

5

ounces

shredded mozzarella cheese

⅓

cup

diced red onion

3

tablespoons

chopped fresh cilantro

1

tablespoon

cornmeal

for pizza peel
Instructions
Preheat oven to 475 degrees. If using pizza stone, place in oven and allow to preheat for at least 20 minutes. If grilling pizza, place pizza stone on grill racks and preheat for 20 minutes on high heat.

Sprinkle cornmeal on pizza peel. Set aside.

Sprinkle work surface lightly with flour and roll dough to desired size. Gently move dough to prepared pizza peel.

Top dough with ½ of BBQ sauce. In a small bowl, toss chicken with remaining BBQ sauce and place on pizza dough. Divide cheeses evenly over chicken. Sprinkle red onion on top of cheeses.

Gently slide pizza onto preheated stone (it takes a few small shakes back and forth). Bake for 10-15 minutes or to desired degree of doneness.

Sprinkle with cilantro, cut into 8 wedges and serve warm.
Notes
Don't have a pizza stone or pizza peel? Use an upside down baking sheet instead. 
It's very important to preheat your pizza stone (or baking sheet) for at least 20 minutes before cooking the pizza. A blazing hot stone (or pan) helps the pizza cook evenly and gives it that nice crispy bottom we all love. 
Nutrition
Serving:
2
slices
Calories:
752
kcal
Carbohydrates:
96
g
Protein:
33
g
Fat:
26
g
Saturated Fat:
11
g
Polyunsaturated Fat:
12
g
Cholesterol:
84
mg
Sodium:
1733
mg
Fiber:
4
g
Sugar:
29
g
Nutrition info not guaranteed to be accurate.