Add some fun to your next grill out with these festive Banh Mi Hot Dogs.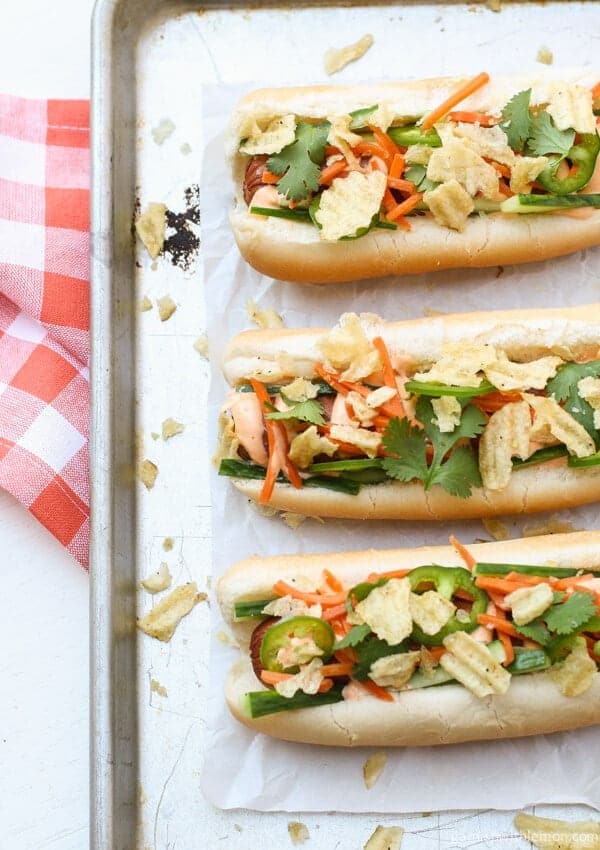 Picnics, parades and fireworks. That about sums up our low-key approach to the Fourth of July. Nothing fancy here, but holidays are supposed to be an excuse not to do a whole lot, right?
When the kids were younger, we'd hit the local parade, and they would jockey for the best candy position along the parade route. Now, at ages 11 and 8, they have strict orders not to steamroll the smaller kids in their attempts to get candy, but they still can't wait to go every year. Our afternoons are spent making homemade ice cream (more on that later this week!) and prepping an easy meal from the grill. We're fortunate enough to live close to the community center, so when darkness falls, we pull out our lawn chairs and enjoy the fireworks right from our driveway.
But just because we're low-key for the Fourth doesn't mean we don't add some festivity to our food. Take these Banh Mi Hot Dogs with Kettle Brand® Potato Chips, for example. Grilled dogs? Technically, yes, but totally amped up with the Vietnamese flavors of a classic Banh Mi Sandwich and a crunchy bite from Kettle Brand® Krinkle Cut™ Salt and Freshly Ground Pepper Potato Chips. Major yum with minimal fuss.
The carrots are the only ingredient that requires any amount of prep time here, and that's only 30 minutes for a quick pickle. Everything else can be pulled together while the grill heats up. Pile on the toppings however you like. My husband was heavy with the Sriracha Aioli and jalapeños, while I overloaded with the pickled carrots, cukes and chips (I like my crunch!). Since dinner is so low-maintenance, we enjoy more time outside relaxing. A lot of our neighbors watch the fireworks from their yards, too, and it's fun to see people mingling together and forming connections that they might not normally make time to do.
Kettle Brand® is also a huge advocate of strong communities as they got their start selling snacks to their friends and neighbors from the back of a van more than 30 years ago. This summer, Kettle Brand® wants to inspire you to connect with your neighbors. The "Hey, Neighbor" program invites you to order a summer sharing kit at www.buykettlechips.com ($9.99 including free shipping). This tote bag, filled with three different flavors of Kettle Brand® Potato Chips, is ideal for bringing to your next picnic or hanging on your neighbor's door for a surprise snack. And if you really want to go big and make a party of hanging with your neighbors, Kettle Brand® has all the tools you need to make it easy, including invites, name tags and Get to Know Your Neighbor cards available to download for free at http://www.kettlebrand.com/fun_stuff/hey_neighbor/.
Food, friends and family. Sounds like an excellent way to spend a holiday to me.
Disclosure: This post was sponsored by Kettle Brand® Potato Chips. All opinions are my own. Thanks for supporting the companies that allow us to develop unique content for you.
Yield: 6
Banh Mi Hot Dogs
Ingredients
6 hot dogs
6 hot dog buns
3/4 cup pickled carrots (see notes)
3/4 cup seeded cucumber cut into matchsticks
Jalapeno pepper slices (seeds removed, if desired)
Fresh cilantro sprigs
1 cup crushed Kettle Brand® Krinkle Cut™ Salt and Freshly Ground Pepper Potato Chips
Instructions
Grill hot dogs and place in buns. Top with desired amounts of Sriracha Aioli, pickled carrots, cucumber, jalapeno slices, cilantro and potato chips.
Notes
To make pickled carrots, add 1 tablespoon rice vinegar and 1 tablespoon sugar to 3/4 cup matchstick carrots. Let sit for 30 minutes.