This easy Baked Potato Soup is pure cold weather comfort food.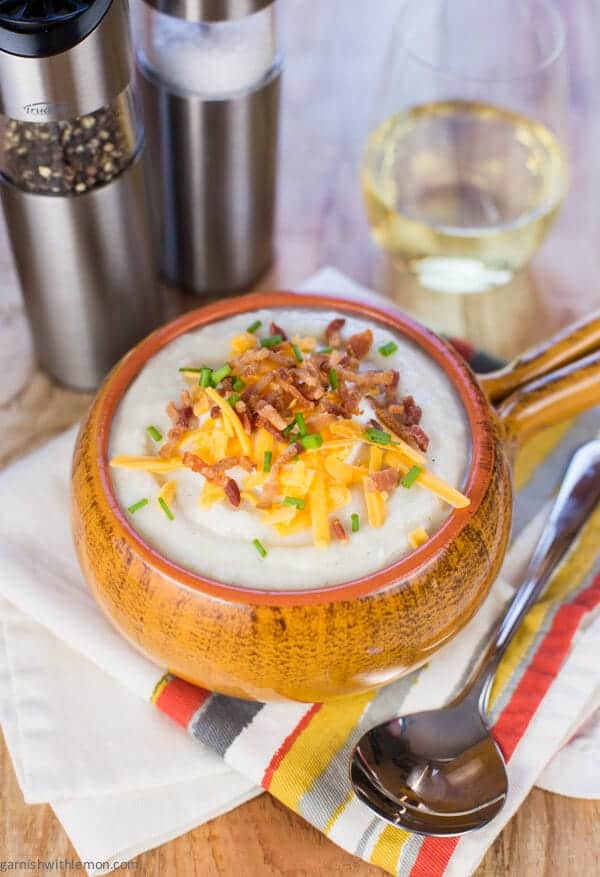 Yep, you guessed it; my soup craving hit again.
It's pretty much a given that whenever the temperatures fall below freezing that I start cranking out homemade soup. It's my version of an electric blanket (although I think that might be nice, too, given the recent cold). This month I took a crack at Baked Potato Soup, because nothing says comfort food like a baked potato loaded with your favorite toppings.
I wouldn't go so far as to say my version of Baked Potato Soup is healthy, but it certainly is better for you than many of the cream-based versions that are out there. But that doesn't make it any less tasty. (Maybe just less likely to sit in your gut after a large bowl of it.) 😉
You can bake your potatoes any way you like for this soup – oven or microwave – but I opted to save time and use the microwave. After the potatoes cooled, I used the smaller of my super handy OXO fruit scoops to carve the baked potatoes out of their skins. So slick! The scoop has a thinner edge than a regular spoon which made it removing the potato guts go much more quickly.
Garnish your soup with the same toppings you enjoy on your baked potatoes. For me, this means bacon, sour cream, sharp cheddar cheese and garlicky chives. And maybe a little extra bacon – well, because, bacon.
This Baked Potato Soup is a peace offering to all of my snowed-in, sick-of-winter, cold-hating friends out there who vow to move to warmer climes next year. No, it doesn't bring sandy beaches and palm trees to your home, but it's amazing how a belly-warming soup can give you a momentary reprieve from cursing Mother Nature.
Momentary, yes, but it's a darn tasty moment.
Yield: 4
Baked Potato Soup
This easy Baked Potato Soup is pure cold weather comfort food.
Ingredients
4 ounces (4 slices) bacon, diced
1 medium onion, diced
5 large Russet potatoes, baked, cooled and peeled
2 cups chicken broth
1 cup milk
1/4 cup sour cream
1 teaspoon salt
1/2 teaspoon pepper
Cheddar cheese, chives, bacon bits and extra sour cream for garnish, if desired
Instructions
Place bacon in a dutch oven over medium-low heat. Cook bacon until fat renders and bits are crispy, about 10-12 minutes. Remove bacon from pan and reserve.
Increase heat to medium, add onions to pan and cook until onions are translucent, about 10 minutes. Add potatoes and chicken broth to the pan. Bring to a boil, cover and reduce heat. Simmer for another 10 minutes.
Stir in milk, sour cream, salt and pepper. Using an immersion blender, puree to desired consistency. (Alternately, you can puree it in batches using a blender.) Check seasoning and adjust as desired. Serve with cheddar cheese, chopped chives, cooked bacon bits and extra sour cream.
Nutrition Information:
Yield:
4
Serving Size:
1
Amount Per Serving:
Calories:

484
Total Fat:

8g
Saturated Fat:

4g
Trans Fat:

0g
Unsaturated Fat:

3g
Cholesterol:

25mg
Sodium:

1158mg
Carbohydrates:

88g
Fiber:

9g
Sugar:

6g
Protein:

16g
Soup? Did someone say soup?
Winter Minestrone Soup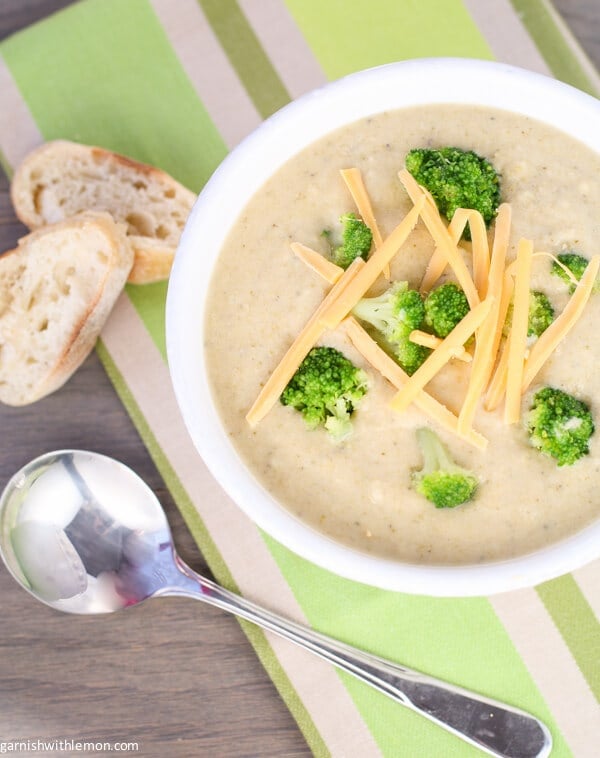 Crock Pot Broccoli Cheese Soup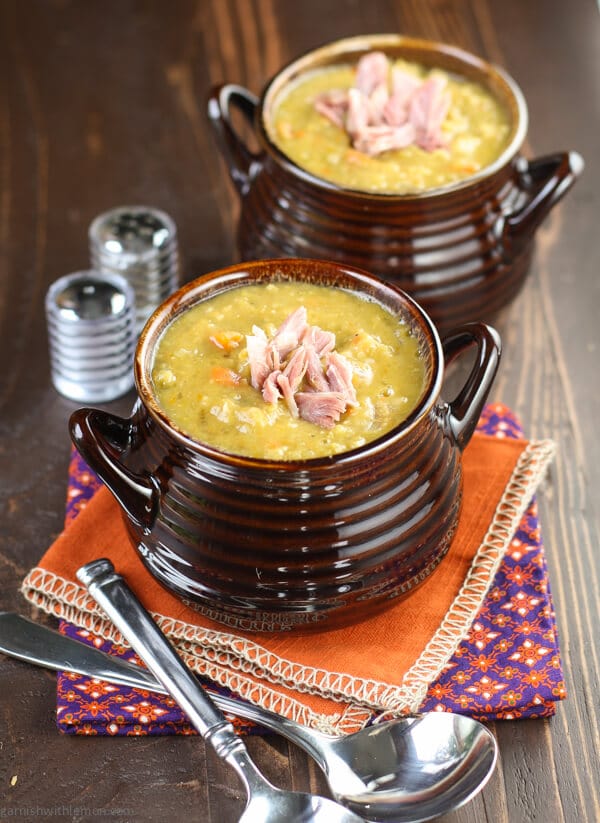 Slow Cooker Split Pea Soup with Ham