East meets West in these Baked Mexican Egg Rolls with Sour Cream Chamoy Sauce!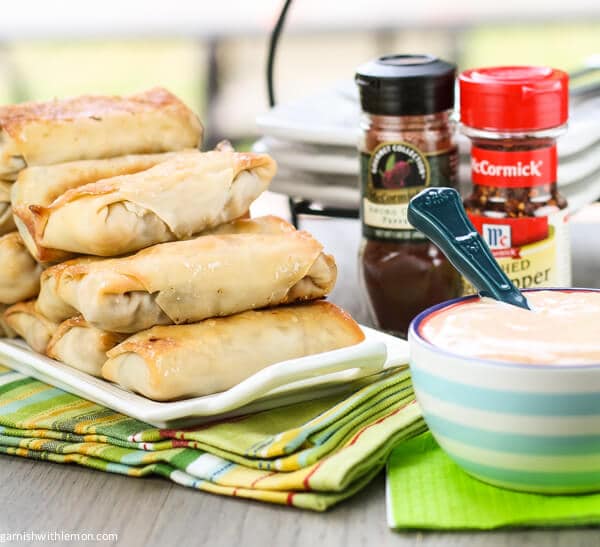 "Cham-what?!?"
That's the response I received from Grady when I told him what I was making for dinner a few weeks ago.
I can't say I blame him; I had no idea what Chamoy was, either, until May when I shamelessly licked nearly every last drop of the sauce off my plateful of Salmon Tostada. Fortunately I was in a room full of food bloggers, and no one looked at me funny for my overzealous reaction to Chamoy Sauce (well, except maybe Lisa…). Now I can't get enough of the stuff and am finding new ways for my family to enjoy it, too, like in these Baked Mexican Egg Rolls with Sour Cream Chamoy Sauce.
First off, let's get down to nuts and bolts. What is Chamoy Sauce?
It's a Mexican condiment that combines apricot, lime, chiles and spices. Traditionally it's been used as a spicy sweet fruit dip in Mexico, but it's also one of the flavors identified by McCormick® in their 2014 Flavor Forecast®. This report gives you and me a peek at the latest tastes and trends that connect people and cultures across the world and provides inspiration for how you can incorporate these flavors into your own kitchen.
One of the 2014 flavor trends is Mexican World Tour, which is born from a growing taste across the world for regional Mexican fare, including Chamoy Sauce. These Baked Mexican Egg Rolls are a tasty, family-friendly example of fusing flavors from East to West.
Although egg rolls are traditionally fried, I opted to bake them, 1) to avoid the frying mess, and 2) to keep them on the healthier side. Hidden inside the egg roll wrappers is a savory mix of chicken, beans, veggies and pepper jack cheese all wrapped in a crispy baked shell. Dunk these bad boys in the Sour Cream Chamoy Sauce for a mouthwatering mashup of tangy sweet heat.
We've been enjoying these Baked Mexican Egg Rolls for dinner, but I can already see that they would be a huge hit as part of an appetizer spread with friends on game day.
Sharing food and flavors with loved ones unites cultures around the world, and as part of their Flavor of Together program, McCormick® wants to hear your personal story about the role flavor plays in your life. Share yours, and McCormick® will make a donation to the United Way to feed those in need. Join the conversation at www.flavoroftogether.com and discover globally inspired dishes, videos, news articles and more.
In addition, one lucky reader of Garnish with Lemon will win a McCormick® Anniversary Prize Pack valued at $50 simply by sharing your own unique flavor story and using the hashtag #flavorstory in the comments below. This pack includes exclusive McCormick® product, a McCormick® recipe book, and a branded canvas tote – all valued at $50.
Good luck! I can't wait to hear your #flavorstory!
Disclosure: This post was sponsored by McCormick®. All opinions are my own. Thanks for supporting the companies that allow us to develop unique content for you.
Yield: 18
Baked Mexican Egg Rolls with Sour Cream Chamoy Sauce
These easy baked mexican rolls are packed with flavor.
Ingredients
Egg Rolls:
2 teaspoons canola oil
1/2 red bell pepper, chopped
3 green onions, chopped
2 cups cooked shredded chicken
1 cup frozen corn, defrosted
1 cup black beans, rinsed and drained
1 teaspoon cumin
1/2 teaspoon chili powder
1/2 teaspoon oregano
1 cup shredded pepper jack cheese
1/4 cup chopped fresh cilantro
Juice of 1/2 lime
salt and pepper to taste
18 egg roll wrappers
Sour Cream Chamoy Sauce:
Prepared Chamoy Sauce (see notes for recipe)
1/2 cup sour cream
Instructions
For the egg rolls:
Heat oil in a large skillet over medium-high heat. Saute bell pepper and green onions for 2-3 minutes. Lower heat to medium, add chicken, corn, beans, cumin, chili powder and oregano to skillet and stir until thoroughly combined and mixture is warmed through. Mix in cheese, cilantro and lime juice until cheese is just melted. Remove from heat and add salt and pepper to taste.
Preheat oven to 400 degrees. Spray a sheet pan with cooking spray and set aside.
Add a small amount of water to a shallow bowl and keep it near your assembly area. Place 1/4 cup of chicken mixture in the center of an egg roll wrapper with one of the corners facing down to you (like a diamond, not a square). Dip your finger in the water and run it around the edges of the egg roll wrapper (this will help the rolls seal tightly during baking). Fold the bottom half of the wrapper over the mixture, fold in the sides one at a time, and finally roll tightly to the top. Check to make sure the edges are sealed. Place on sheet pan and repeat with remaining egg roll ingredients. Bake for 23-25 minutes flipping at least once while baking. Cool slightly on a cooling rack while you prepare the sauce.
To make the Sour Cream Chamoy Sauce:
You can make the sauce as creamy as you like. I used a ratio of 2 parts prepared Chamoy Sauce with 1 part sour cream. Stir until smooth. Serve with warm egg rolls.
Notes
Chamoy Sauce: Place 1 cup apricot preserves, 1/4 cup fresh lime juice, 2 teaspoons McCormick® Crushed Red Pepper, 1 teaspoon McCormick® Gourmet Collection Ancho Chile Pepper and 1 teaspoon salt in a blender. Cover and blend on medium speed until smooth. Keeps in the refrigerator for up to 5 days.
Nutrition Information:
Yield:
18
Serving Size:
1
Amount Per Serving:
Calories:

196
Total Fat:

6g
Saturated Fat:

2g
Trans Fat:

0g
Unsaturated Fat:

3g
Cholesterol:

24mg
Sodium:

297mg
Carbohydrates:

26g
Net Carbohydrates:

0g
Fiber:

2g
Sugar:

3g
Sugar Alcohols:

0g
Protein:

10g