Party food don't get much easier than this 4-ingredient Bacon Cream Cheese Crescent Roll Appetizers recipe. So simple to make and everyone loves them!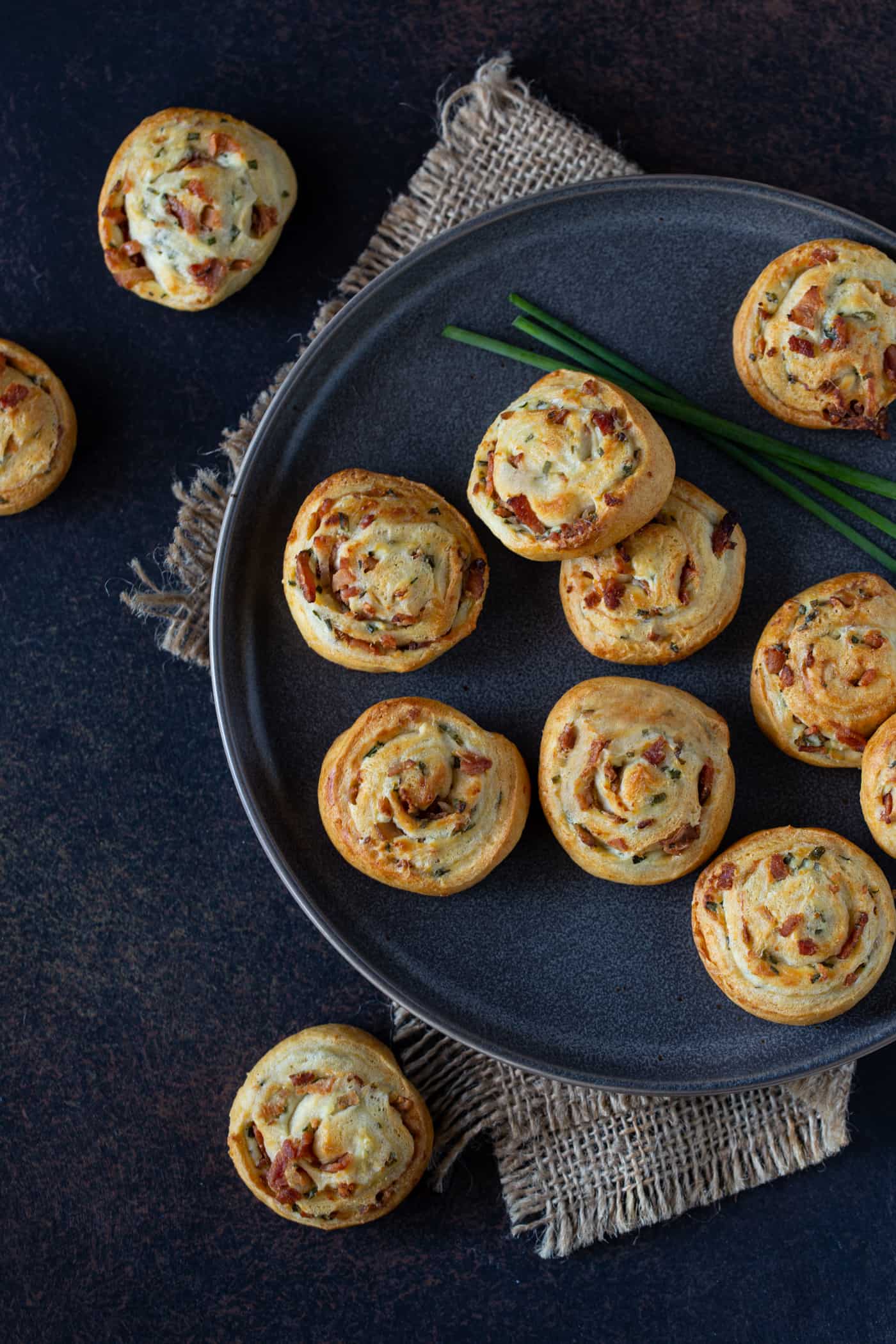 You guys absolutely LOVE our Bacon Cream Cheese Bites. In fact, they are consistently one of the most popular recipes on our website. If you've ever had one, you know why - they are addictively delicious.
So we figured why not keep a good thing going? These Bacon Cream Cheese Crescent Roll Appetizers are another 4-ingredient snack recipe that will disappear at your next party. Guaranteed.
Jump to:
Ingredients
So what's in these tasty morsels? We weren't kidding when we said there were only 4 ingredients in this recipe:
Crescent roll dough
Cream Cheese
Bacon
Fresh chives
Easy party appetizers don't get much simpler than that!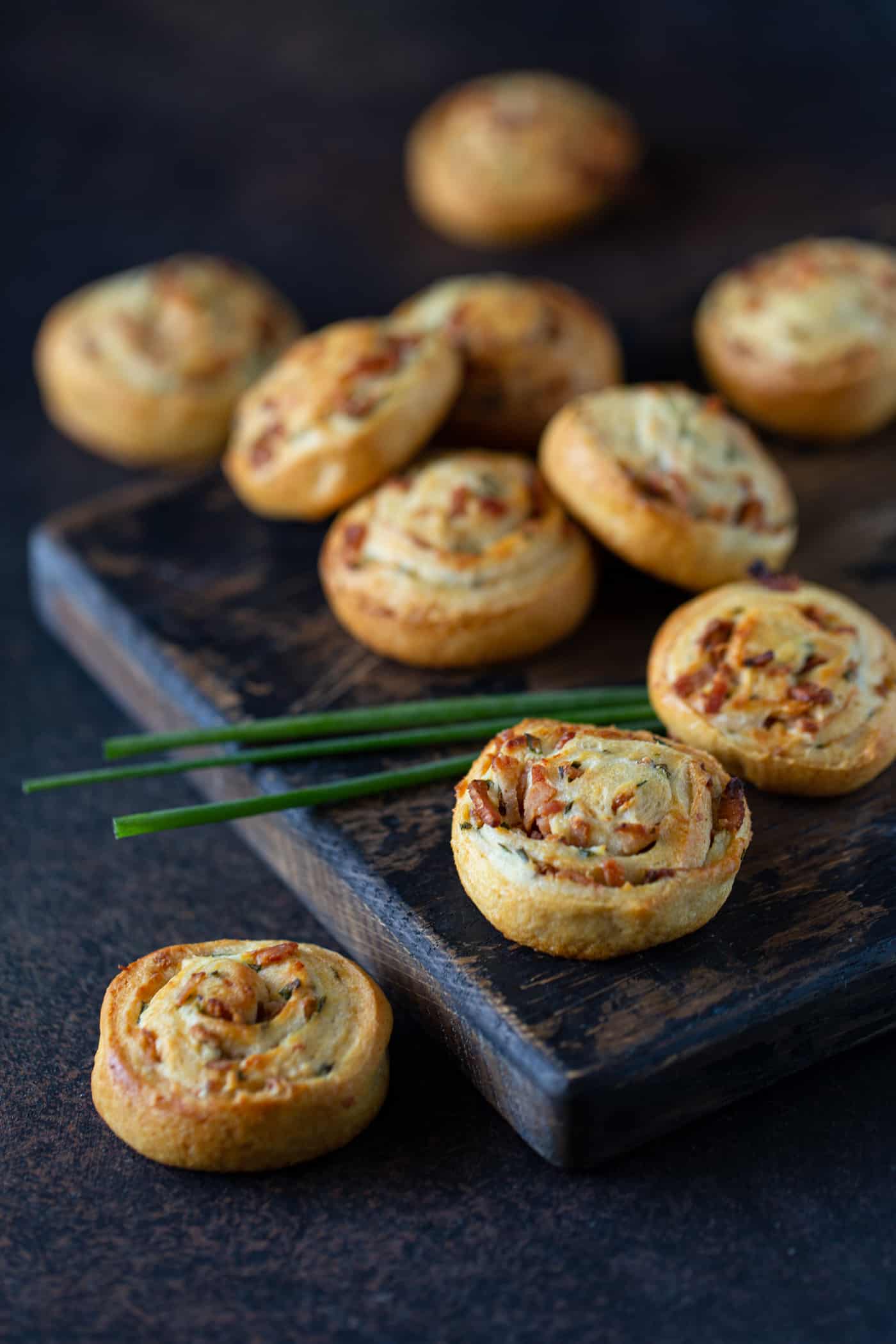 FAQs
Are crescent rolls the same as puff pastry?
Nope, they aren't. Ever cut a croissant in half and seen a multitude of flaky layers? Those layers are the result of a process called lamination, and both croissants and puff pastry are made from types of laminated dough.
The layers are achieved when dough and butter are layered onto one another, folded, rolled out, layered and folded again (and again). The baking process allows the water in the pastry to escape as steam, thus creating all the layers.
Crescent rolls are made from a yeast-based dough that also incorporates butter but without the extensive layering and folding process like puff pastry. You'll find they are more similar in texture to dinner rolls than to flaky, multi-layered pastries like croissants.
Can I use a can of crescent rolls instead of the crescent roll dough sheet?
Crescent roll dough is the exact same thing as the perforated crescent rolls you buy in the tube - without the perforations!
Buying the dough sheet saves you a bit of time and hassle so seek it out if you can. (There is rarely a cost difference between the two.) That way you don't have to worry about sealing up the perforations in the dough before you make this crescent roll appetizer recipe.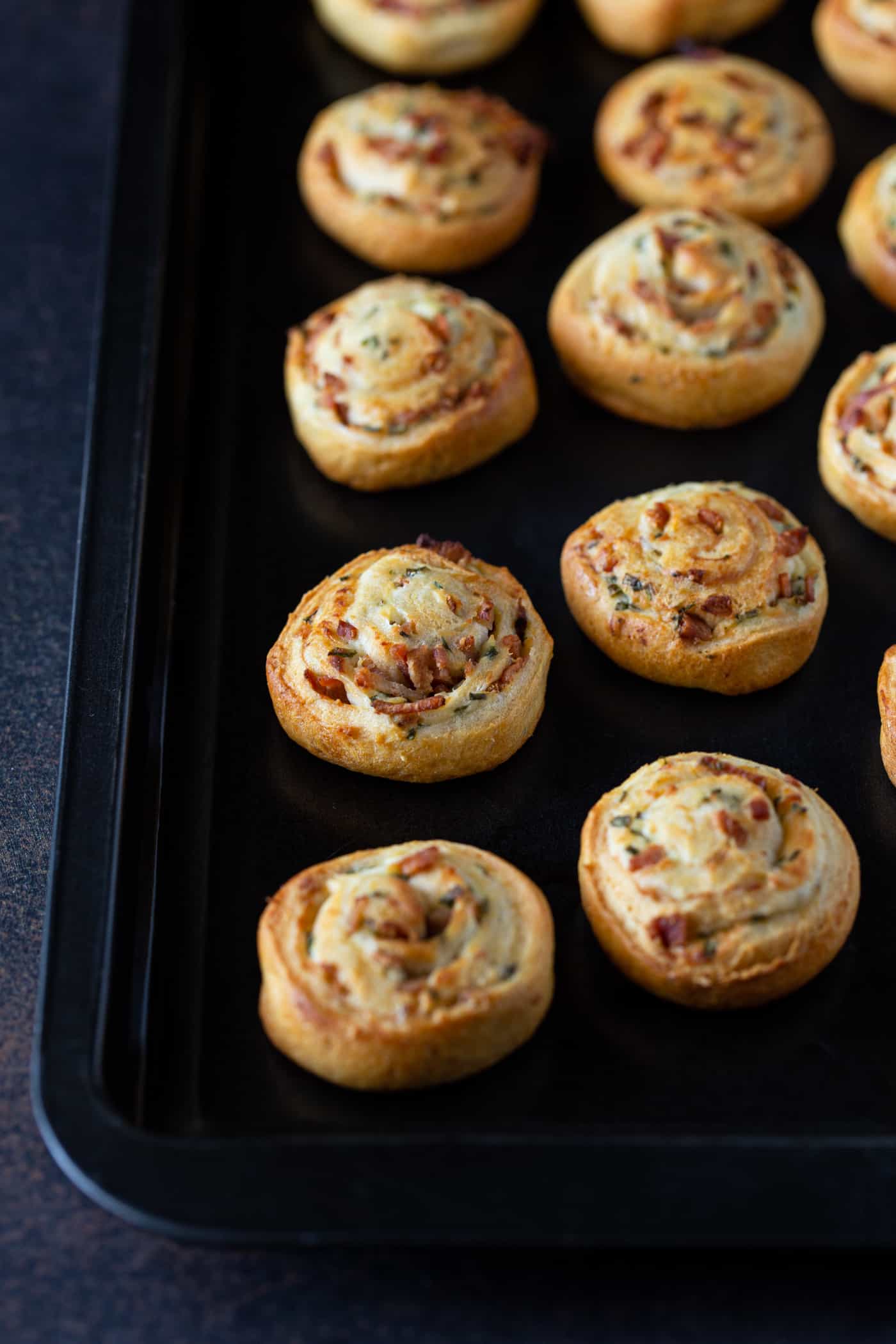 Tips
Crescent roll dough is actually very forgiving and quite easy to work with. That said, I do have a couple tips for working with crescent roll dough to make it even easier.
Place a sheet of parchment on your work surface before beginning. This will prevent the dough from sticking to your countertop when you roll it out. You can even tape down the edges of the parchment if you find it's sliding away from you when you roll the dough.
Use an offset spreader (one of my favorite and most versatile kitchen tools) to spread the cream cheese mixture on the dough. It makes even spreading a snap plus it allows you to get close to all the edges easily.
Refrigerate your dough for about 20 minutes after you've rolled it into a log. You can do this while your oven heats up. I find that just a short spin in the fridge helps the crescent roll pinwheels retain their shape better once cut.
Choose a serrated knife and use sawing motions to cut the dough log into pieces. That way you don't end up with smushed or misshapen pinwheels like you might with a regular chef's knife. I usually start in the middle, cut the log in half, and cut each half in half again before slicing into individual pieces. My pinwheels are more even when I divide the dough this way because I'm not estimating how many more slices to make from a huge log of dough.
And that's it! If you do find a few wonky-looking pinwheels, just give them a little nudge with your fingers to reshape them. That's the beauty of using crescent roll dough. It's very forgiving.
You definitely need to use cooked bacon in this recipe because the short cook time for the pinwheels might not cook raw bacon all the way through.
It's a little extra work to cook the bacon yourself, so if you're tight on time, buy the precooked bacon at the grocery store and chop up as much as you need. Works like a charm.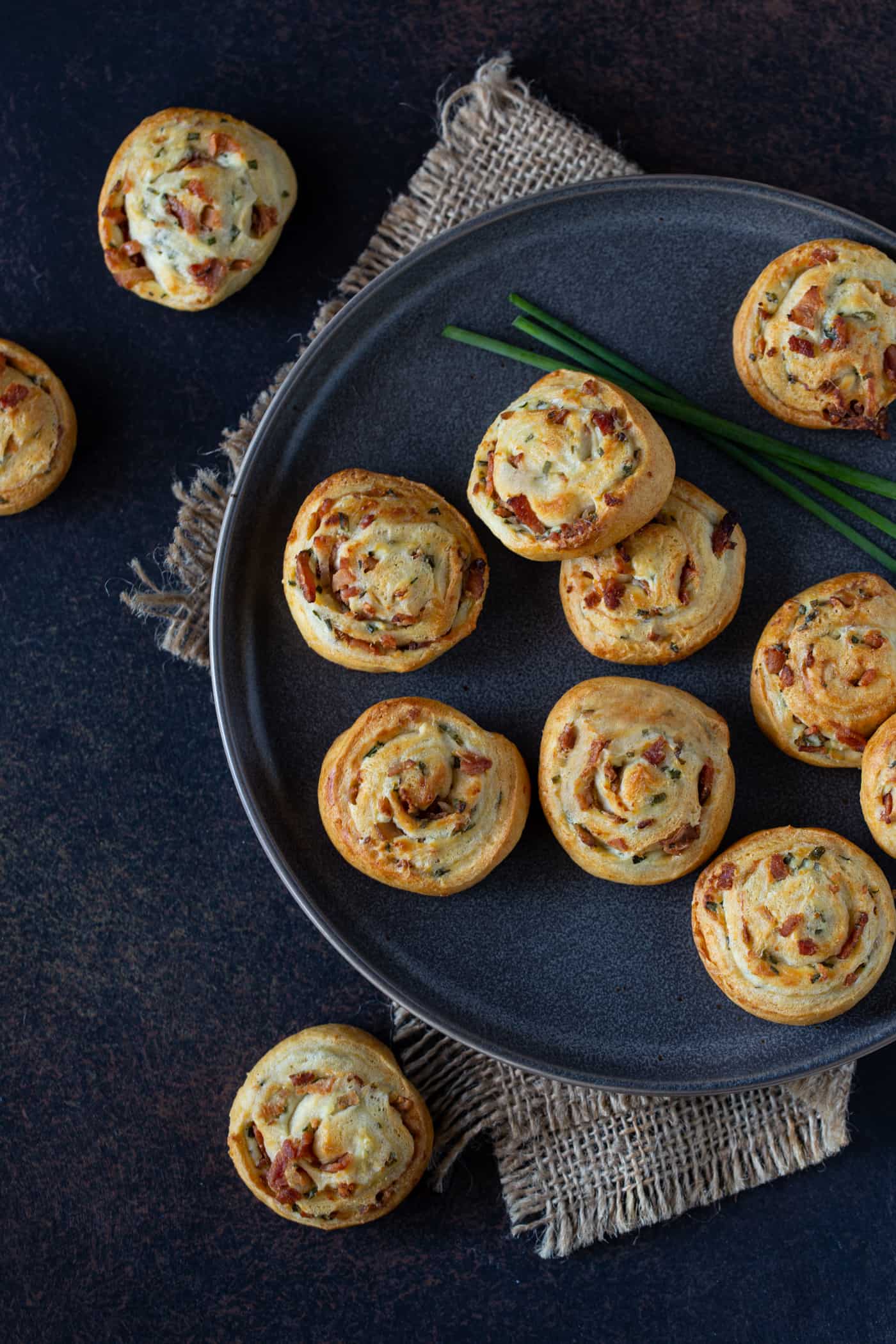 More appetizers recipes:
Recipe
Bacon Cream Cheese Crescent Roll Appetizers
Take your appetizer game up a notch with these easy, 4-ingredient Bacon Cream Cheese Crescent Roll Appetizers. Perfect for game day, Thanksgiving or any party! 
Ingredients
4

ounces

spreadable cream cheese

or regular cream cheese at room temperature

3

tablespoons

chopped fresh chives

1

8-ounce container crescent roll dough sheet

6

pieces

bacon

cooked and finely chopped
Instructions
Stir cream cheese and chives together until well mixed. Line a bakign sheet with parchment. Set both aside.

Unroll crescent roll dough onto another piece of parchment paper. Smooth dough into a rectangle. Evenly spread cream cheese over dough. Sprinkle evenly with bacon. Roll into a log starting with the long side lengthwise and press seam to close. Refrigerate for 20 minutes.

Preheat oven to 375 degrees.

Slice dough roll into 24 pieces and place on a parchment lined baking sheet. Bake for 12-14 minutes or until golden brown. Serve immediately.
Notes
You can prep the chives, cream cheese and bacon in advance if you know you'll be short on time.
Recipe adapted from Taste of Home.
Nutrition
Serving:
2
appetizers
Calories:
154
kcal
Carbohydrates:
11
g
Protein:
3
g
Fat:
11
g
Saturated Fat:
5
g
Polyunsaturated Fat:
5
g
Cholesterol:
17
mg
Sodium:
214
mg
Sugar:
1
g
Nutrition info not guaranteed to be accurate.
Party food doesn't get much easier than these 4-ingredient Bacon Cream Cheese Crescent Roll Appetizers. No one can resist the combination of bacon, cream cheese and fresh chives. This easy appetizer recipe ALWAYS disappears!