Juicy berries are the star of this Arugula Salad with Blackberries and Creamy Goat Cheese Dressing!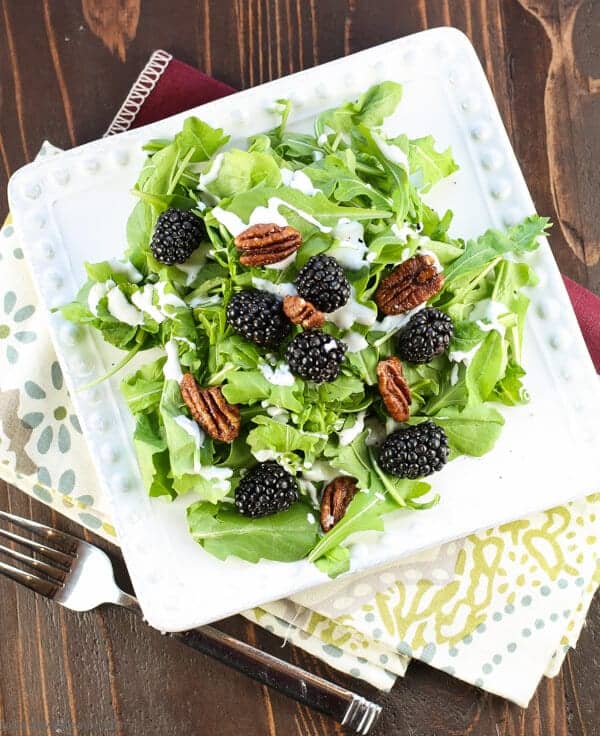 Charlie has always been my salad eater. Unique for a 9-year old, no? He requests salads for school lunches and even ordered one for dinner when we went out for pizza with his flag football team! (How many little boys turn down pizza?) Greta, on the other hand, has been a little harder to coax into joining Team Salad. But I've recently found that if I top the salad with things she loves, she will eat the greens to get the goodies. It took me a little while to figure this out, but better late than never, right? And since fresh berries are one of her favorites, this Arugula Salad with Blackberries and Creamy Goat Cheese Dressing is A Berry Perfect pair.
I remember when I was a kid how excited I would get in the summer when we could finally GET fresh berries. They weren't always available year round as they are now (I totally just dated myself with this admission!). My kids have never known life without fresh berries no matter what season it is. And with the amount of fruit we eat in our house, availability is a must. Which is exactly why you can always find Driscoll's®  berries in my fridge. 
When salads have so few ingredients, it's important to use high quality ingredients. The Driscoll's® blackberries are plump, juicy and sweet – the perfect balance to the spicy arugula and the tangy goat cheese. Don't skimp on your goat cheese for this salad dressing, either. I stock up on goat cheese from Whole Foods Market®. Their Whole Foods® 365 Label goat cheese is high quality yet reasonably priced. Toss some candied nuts on top, and it's no wonder that this salad has Greta eating her greens. THAT is music to this mom's ears!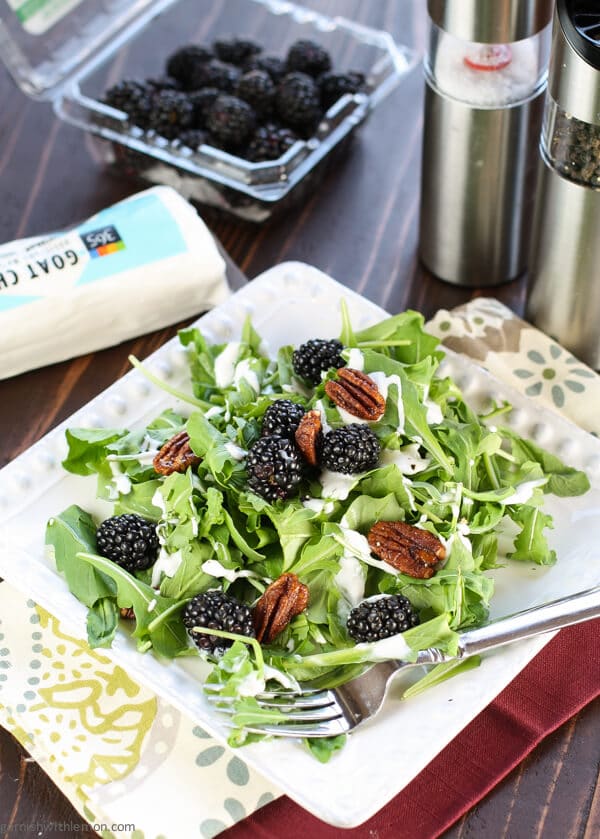 Yield: 6
Arugula Salad with Blackberries and Creamy Goat Cheese Dressing
Ingredients
Creamy Goat Cheese Salad Dressing:
6 ounces goat cheese, softened
2 teaspoons honey
1/3 cup milk or cream
1/3 cup sour cream
1/2 tsp ground white pepper
1/4 tsp salt
Salad:
5 ounces baby arugula
1 (1/2 pint) container of Driscoll's blackberries
1/2 cup candied pecans
Creamy Goat Cheese Dressing to taste
Instructions
To make the salad dressing:
Place all salad dressing ingredients in a small deep bowl and whisk until smooth. Add more milk to reach desired consistency, if necessary.
To assemble salad:
Place desired amount of arugula on individual salad plates. Divide the Driscoll's blackberries equally among the plates. Sprinkle with candied pecans and drizzle with salad dressing.
Notes
Makes 1 1/2 cups of salad dressing. Extra dressing can be stored in the refrigerator for one week.
 This post is sponsored by Driscoll's and Whole Foods in conjunction with Kitchen Play. All opinions are our own. Thanks for supporting the companies that make Garnish with Lemon possible.