Looking for an easy, make-ahead appetizer? These Stuffed Apricots with Goat Cheese, Basil and Marcona Almonds come together quickly and are gorgeous on your appetizer table.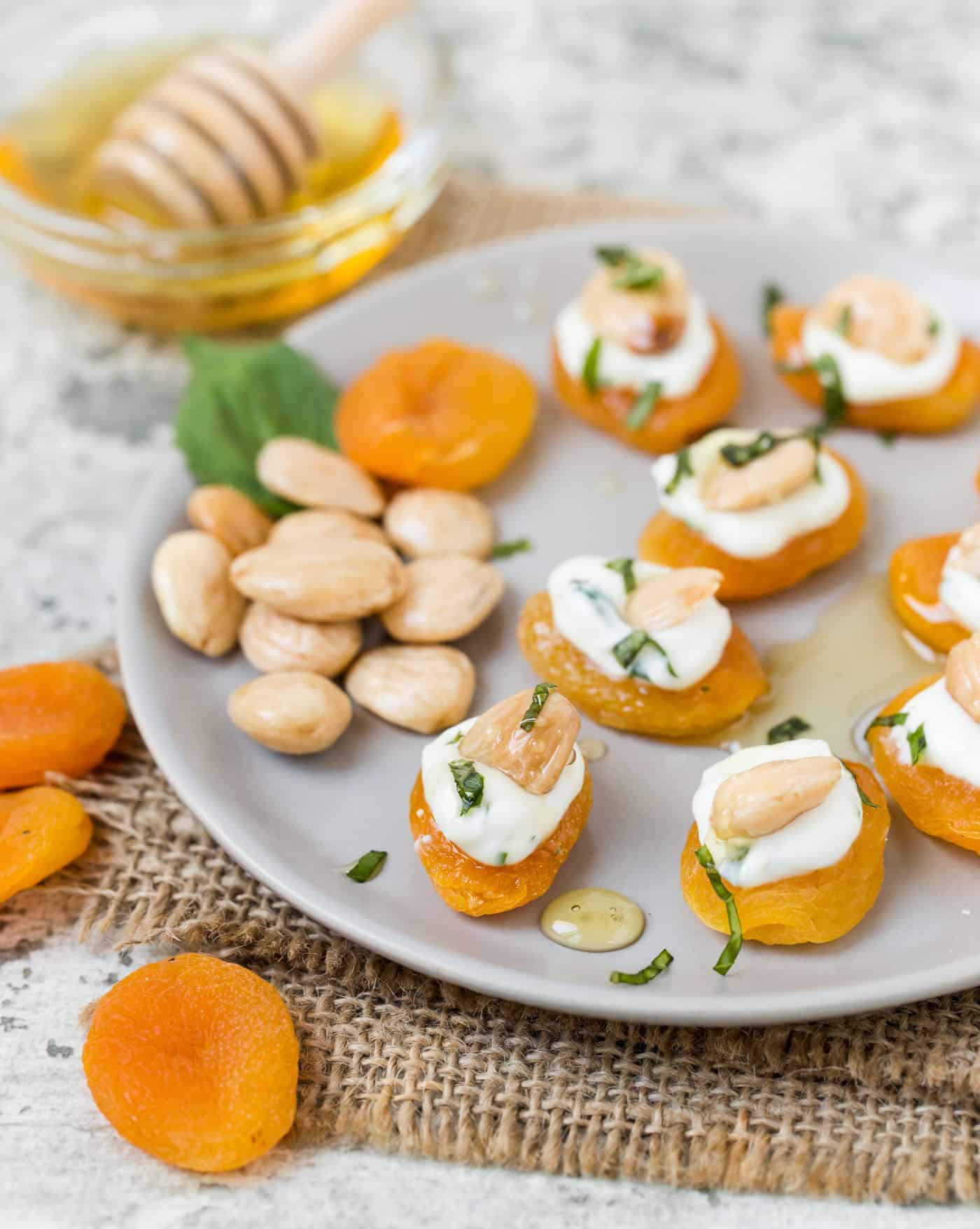 In our world it's always party season, but that doesn't mean that the appetizer you bring to share has to be calorie ridden. I was on a girls' weekend and one of my friends brought these yummy Stuffed Apricots with Goat Cheese, Basil and Marcona Almonds.
Um, Y-U-M. Why haven't I had these before? But don't worry, I'll share them with you, too, so you enjoy these delicious little gems. And I dare you to pop just one in your mouth.
Instructions
Don't worry, stuffing apricots is a lot easier than it sounds. Here are a few tips to guide you:
Make sure your goat cheese is room temperature before you mix it with the milk for an ultra creamy texture.

Place the cheese mixture in a small plastic bag and snip the corner to pipe on top of the apricots. No fancy piping bags required!
Boom. The hardest part is done. How easy was that?
These Stuffed Apricots with Goat Cheese, Basil and Marcona Almonds are made with dried apricots and come together in 5 minutes. Plus they taste best at room temperature. Another bonus? They are really pretty and add some fresh flavors to the mix of typically heavy party fare. What's not to love?
You might have seen these irresistible little nuts on meat and cheese trays. Marcona Almonds hail from Spain and are rounder, softer and sweeter than a California almond. They are typically roasted in oil and sprinkled with sea salt. Sooooo good!! They are the perfect topper to these dried Stuffed Apricots.
Apricot Varieties
Not a lot. Turkish apricots are a little sweeter than California apricots, but either works in this recipe. I used California Apricots when I made these. They are a little tangier than Turkish Apricots and pair perfectly with the goat cheese. And when you stick a salty Marcona Almond on top, sprinkle with some fresh basil and drizzle with a little honey, it's pretty much perfection on a plate.
Take these little stuffed apricots to any party and watch them fly off the plate. I know the cheese doesn't make them super low calorie (and eating 10 instead of 2 or 3 isn't the best example of portion control), but it's fruit, right?
And it's still a party.
More Apricot Recipes
Apricot Almond Thumbprints - Belly Full
Cornbread Stuffing with Sausage and Dried Fruit - Garnish with Lemon®
Cashew Chocolate Snack Mix with Apricots - That Skinny Chick Can Bake
Apricots with Goat Cheese, Basil and Marcona Almonds
You only need a handful of ingredients to make these gorgeous, healthy appetizers!
Ingredients
36

Dried California Apricots

4

ounces

goat cheese

softened

2

tablespoons

milk

4

tablespoons

chopped fresh basil

divided

pepper to taste

36

Marcona Almonds
Instructions
Mix goat cheese and milk together in a small bowl until smooth. Add 2 tablespoons of the basil, season with pepper to taste and mix well.

Spoon or pipe a small amount of the goat cheese mixture on top of each dried apricot. Place Marcona almond on top.

Sprinkle plate with remaining basil and serve.
Nutrition
Serving:
3
apricots
Calories:
100
kcal
Carbohydrates:
13
g
Protein:
4
g
Fat:
5
g
Saturated Fat:
2
g
Polyunsaturated Fat:
3
g
Cholesterol:
5
mg
Sodium:
65
mg
Fiber:
3
g
Sugar:
10
g
Nutrition info not guaranteed to be accurate.