Made in just one bowl and filled with apples in every bite, this Apple Bundt Cake with Salted Caramel Glaze is your new go-to dessert for fall!
In a hurry and missing an ingredient? Get our free Ingredient Substitution Cheat Sheet.
Labor Day is bittersweet this year. This past week was a last blast of summer for us. We ended with a bang, packing everything in that we could. Work was pushed aside, and the memories made this past week are worth the catching up I have ahead of me. School starts tomorrow, but summer is ending on a high note, with most everything crossed off of our bucket list. As much as I hate to see summer go, it's time to get back to routines, schedules, earlier bedtimes and fall baking. Time for me to start baking everything apple, like this Apple Bundt Cake with Salted Caramel Glaze. I may have made it three times in the last week. How can you go wrong with an easy dessert filled with apples, cinnamon and caramel?
Are you a bundt fan? My trusty bundt cake pan usually gets pushed into the back of my corner cabinet, but not this year, thanks to this Apple Bundt Cake with Salted Caramel Glaze. It's my new go-to fall dessert. Mind you everything apple is always a hit in this house, but this cake?  It's my new crush. Literally takes 15 minutes to prep, dirties one bowl and you are on your way to apple heaven. I kept things easy and used a jarred salted caramel sauce to  drizzle on top, but feel free to make your own if you prefer.
I made this for my family, book club, and my visiting relatives last week, and I've only had one person not like it. Guess who? Yup, Greta. But since the only cake she truly loves is chocolate, I'm considering it a grand slam fall dessert. I'm betting you will, too.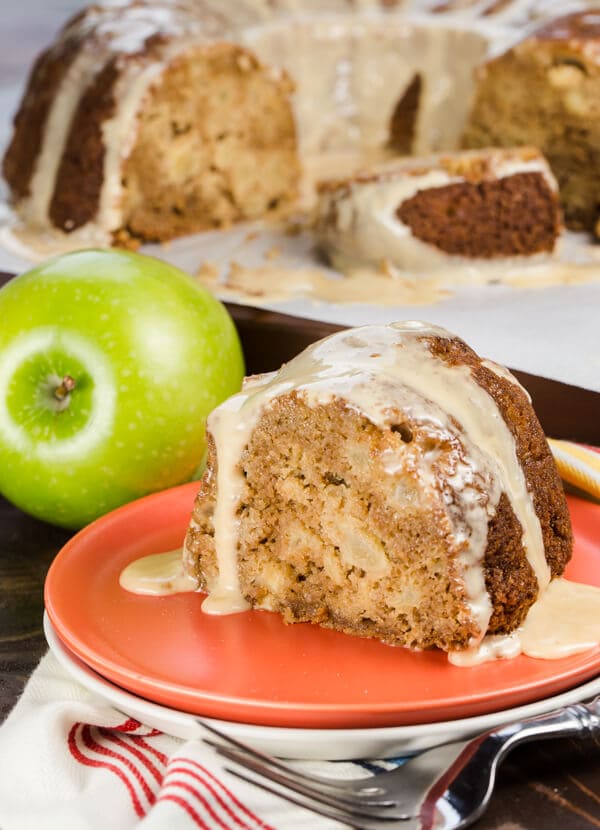 Apple Bundt Cake with Salted Caramel Glaze
12
adjust servings
Ingredients
Apple Bundt Cake
1

cup butter, melted and slightly cooled

3

eggs

1 1/2

cups brown sugar

1

teaspoon vanilla

1

tablespoon cinnamon

2 1/2

cups flour

2

teaspoons baking powder

1/2

teaspoon salt

1/2

teaspoon baking soda

6

cups Granny Smith apples, peeled and cut into small chunks
Salted Caramel Glaze
1/4

cup salted caramel sauce

1

cup powdered sugar
Instructions
To make the cake:
Preheat oven to 350 degrees and spray a 12 cup bundt cake pan with cooking spray.
In a large bowl combine butter, sugar, eggs and vanilla until well combined. Add cinnamon, flour, baking powder, salt and baking soda and stir until just combined, being careful to not over mix. The batter will be very thick. Add apples and stir gently to combine.
Spoon batter into prepared pan and bake for 50-60 minutes or until toothpick comes out clean.
Let cake cool for 10 minutes in pan. Invert pan onto wire rack and cool completely while you make the glaze.
To make the glaze:
In a small bowl combine 1/4 cup salted caramel and 1 cup powdered sugar. Whisk until smooth. Add milk a teaspoon at a time if needed to get to desired consistency.
Did you make this recipe? We'd love to see it! Snap a pic of your creation and tag it #GarnishWithLemon. We might even feature your photo on social media!