Cheesecake bars are one of our go-to desserts for a group. With this collection of 8 Tasty Cheesecake Bar recipes, you can be sure there is something for everyone!

What is it about cheesecake? More often than not, it's universally loved and makes an impressive dessert for friends and family.
A traditional cheesecake recipe is made in a round springform pan and sliced into tall wedges for plating. But it doesn't have to be!
Cheesecake made in bar form is not only more approachable, but you can also cut it into smaller, bite-sized pieces that can be portable and are perfect for a buffet.
Serve a single variety or two, three or even four choices. No matter what the occasion, a pan of cheesecake bars are always a great dessert for a group.
This collection of eight make-ahead Cheesecake Bar Recipes is filled with something for everyone:
Got guests with gluten sensitivities? No problem. Check out our two gluten-free cheesecake bar recipes.
Not a big baker? We've got you covered with two no-bake cheesecake recipes.
Serving a crowd of chocoholics? Covered. Fruit fans? We have those, too.
If you need a flavorful cheesecake bar recipe, look no further than this collection. Plus we included our favorite tips and tricks to help you get perfect cheesecake bars every time! Read on for all the details!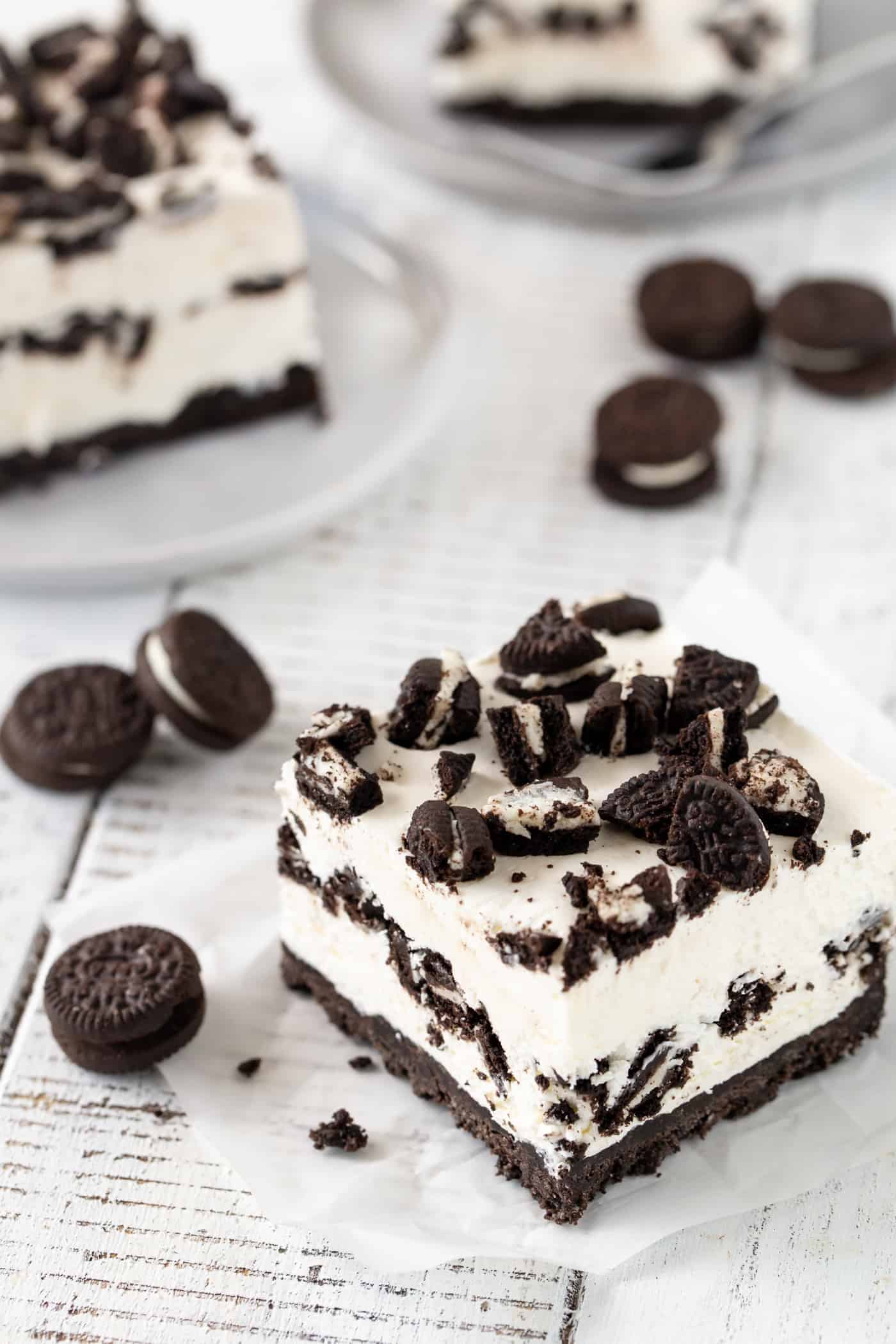 No Bake Cookies and Cream Cheesecake Bars
Keep the heat out of the kitchen with these easy, No Bake Cookies and Cream Cheesecake Bars.
Get the Recipe
No Bake Strawberry Cheesecake Bars
Keep the kitchen cool and serve a pan of these No Bake Strawberry Cheesecake Bars!
Get the Recipe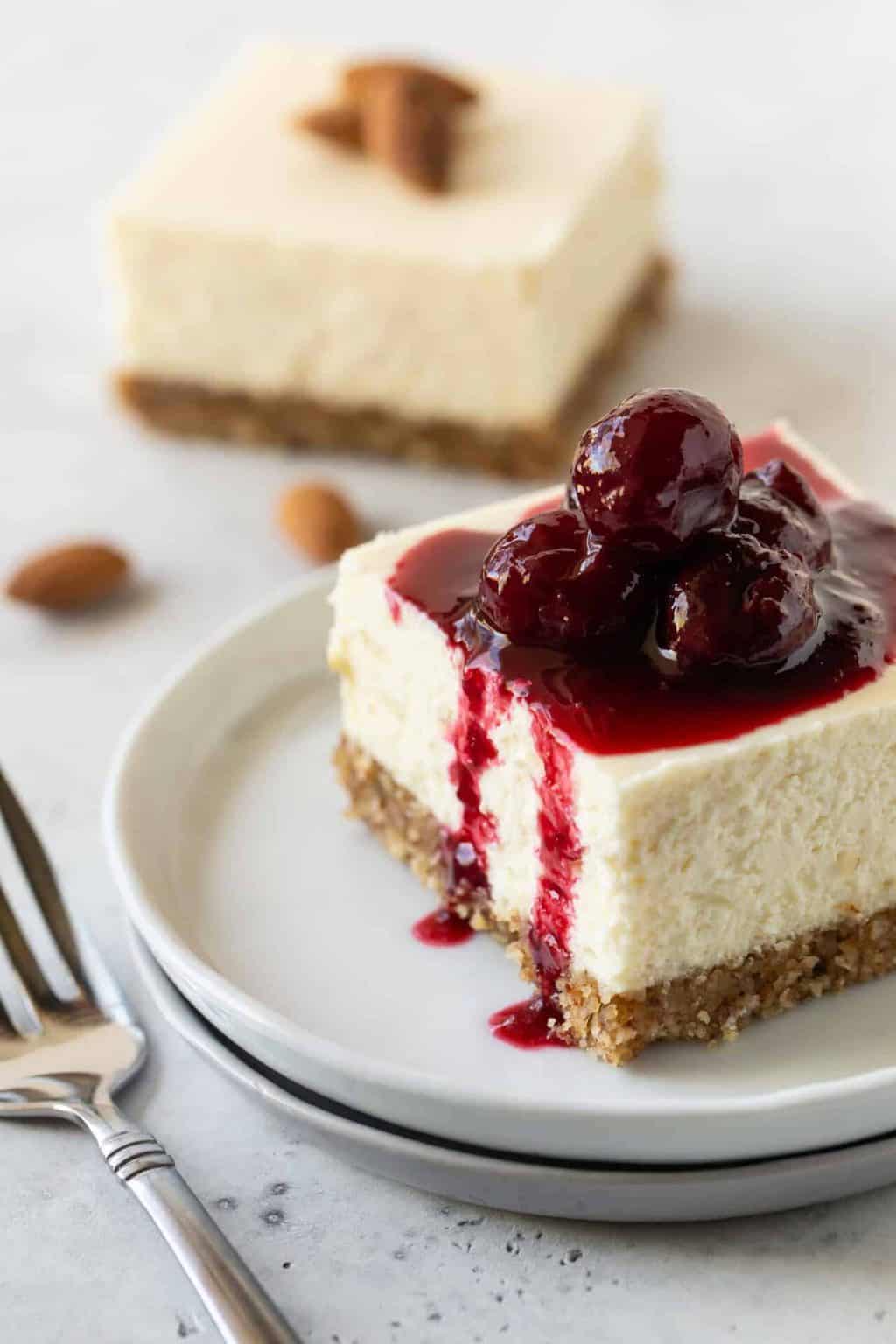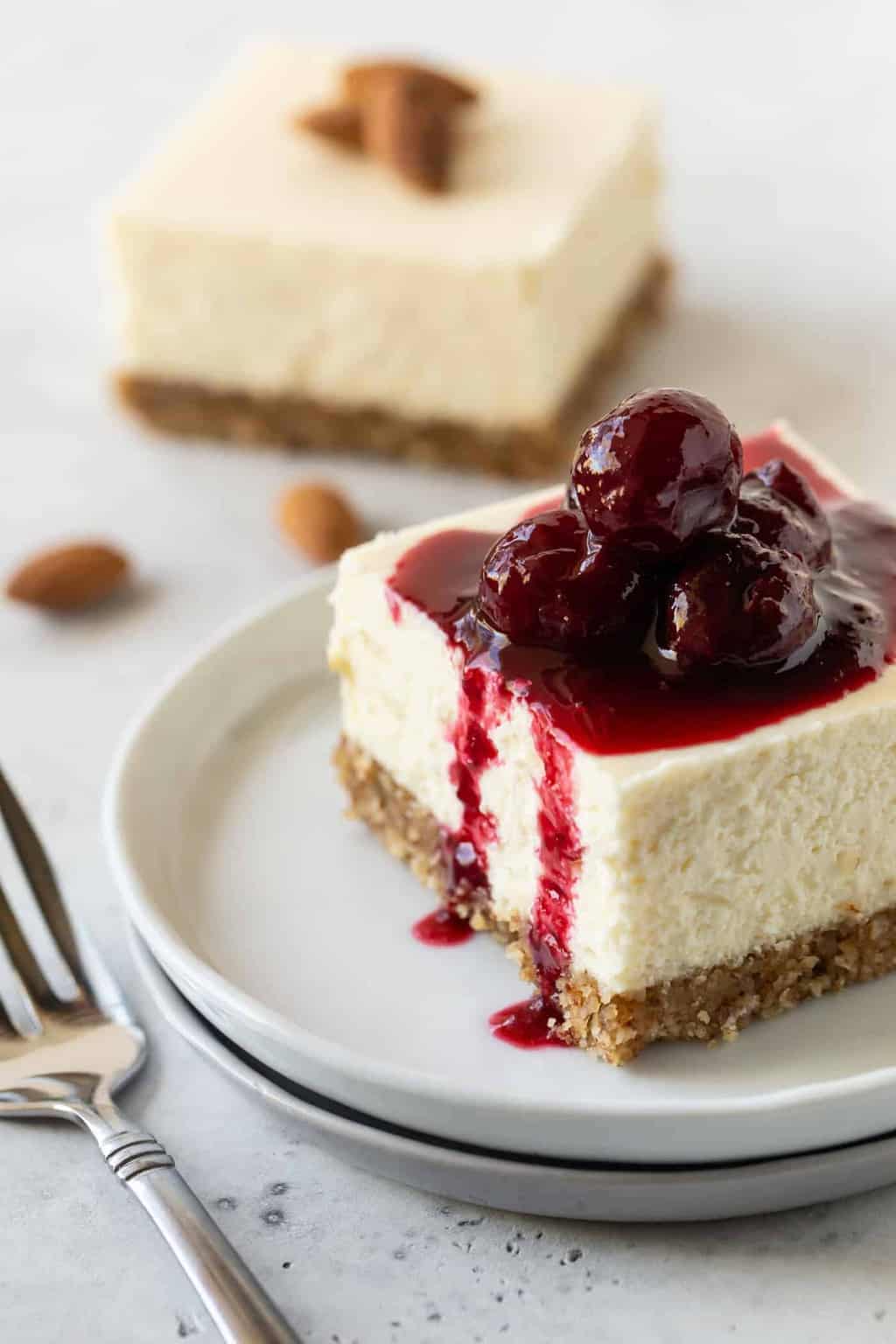 Gluten-Free Cherry Almond Cheesecake Bars
These Gluten-Free Cherry Almond Cheesecake Bars double down on the almond flavor in both the cheesecake and the crust. Easy to make ahead of time, too.
Get the Recipe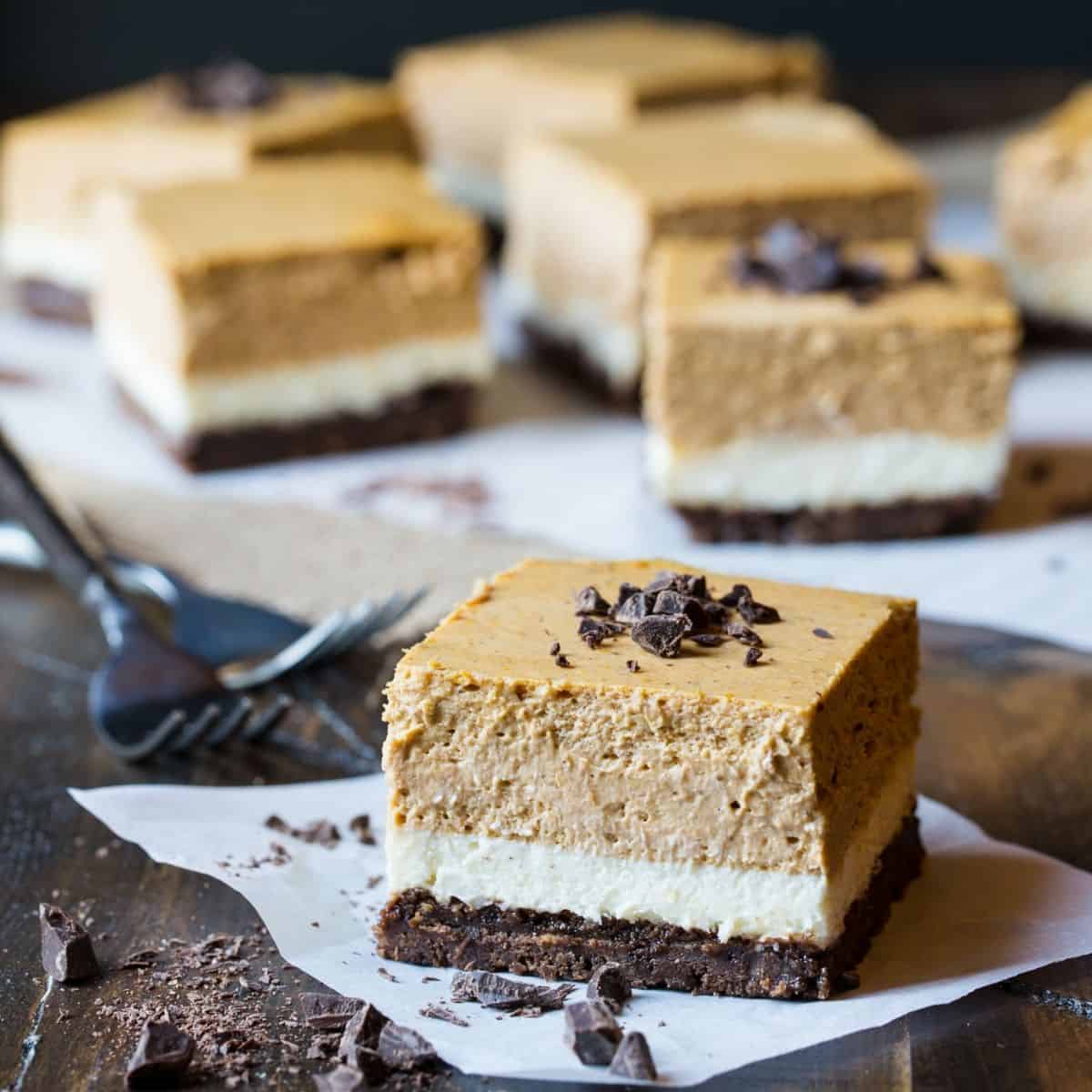 Gluten-Free Chocolate Pumpkin Cheesecake Bars
This recipe for make ahead Glutenfree Chocolate Pumpkin Cheesecake Bars is going to be a hit with your guests!
Get the Recipe
Raspberry White Chocolate Cheesecake Bars
These White Chocolate Raspberry Cheesecake Bars are an easy elegant dessert!
Get the Recipe
Serving Tips
The freezer is your friend when you are making no bake desserts.
Pop the crust in the freezer while you are making the batter to get it to set quickly.
After you add the cheesecake batter, make sure you chill the bars for at least 5 hours before you serve them.
Pro tip: If you freeze the cheesecake bars, let them sit out for 30 minutes before you try and cut them or else your crust will break.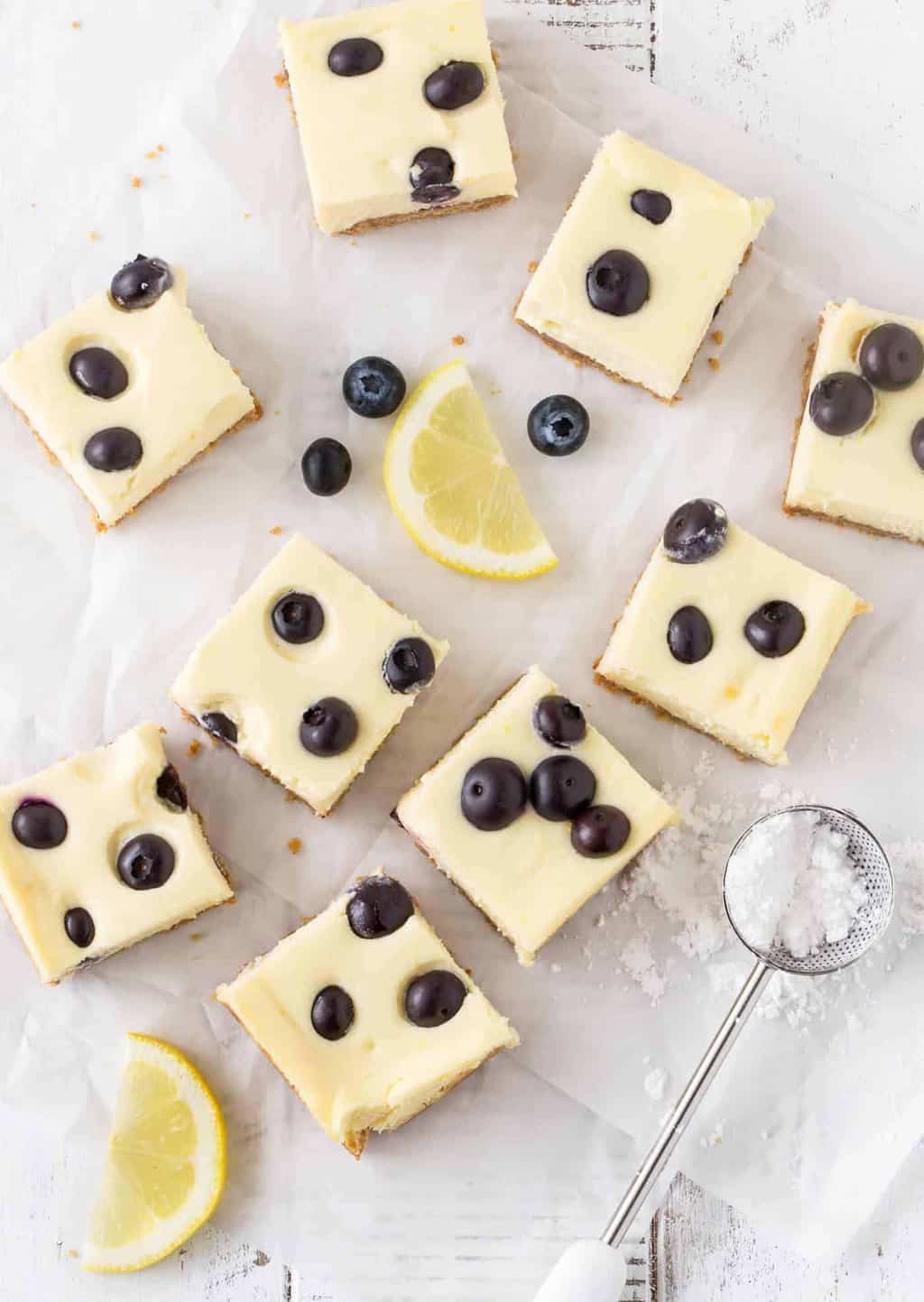 Lemon Blueberry Cheesecake Bars
Cheesecake bars are the BEST make ahead dessert and you can't go wrong with this creamy lemon cheesecake filled with fresh blueberries!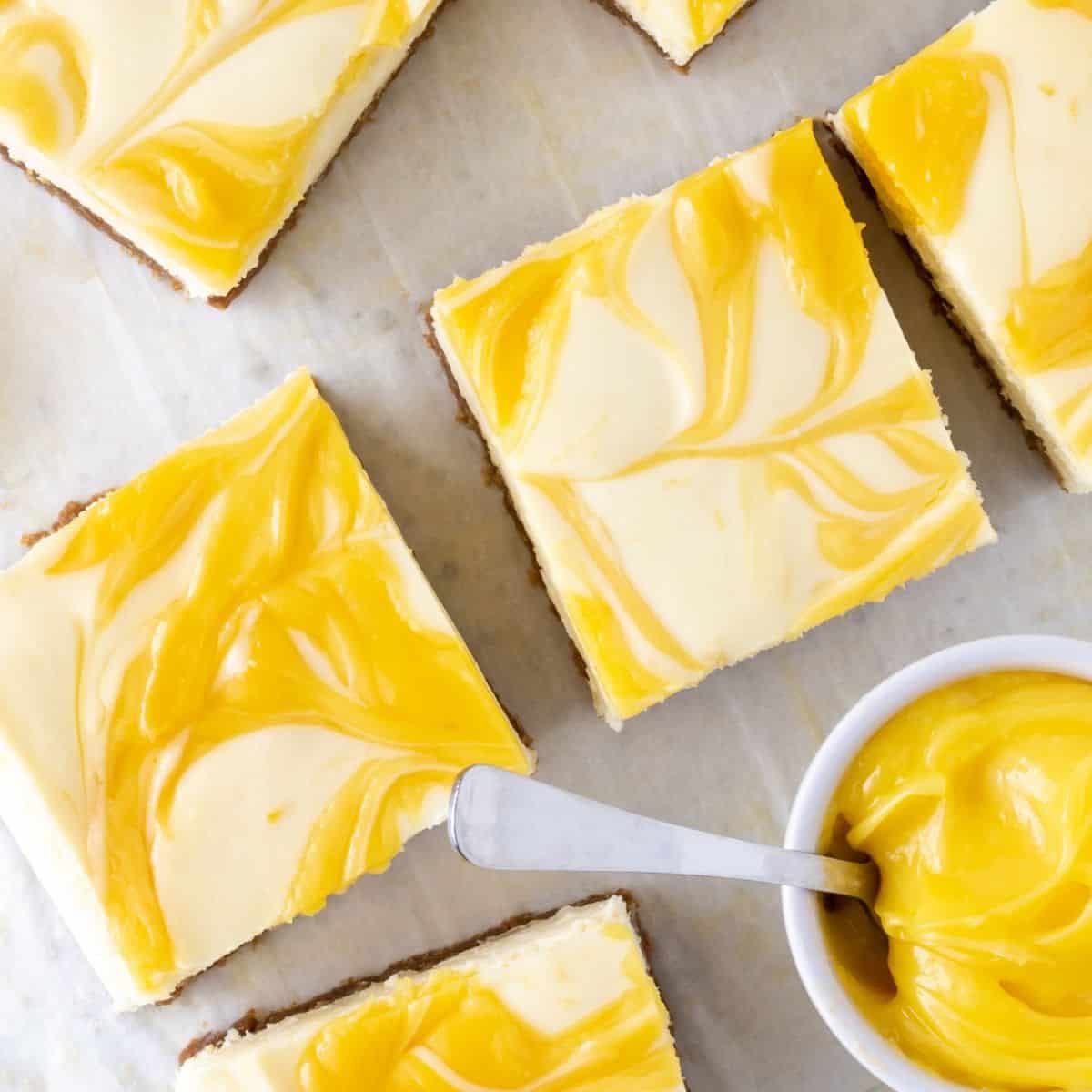 Lemon Cheesecake Bars
This recipe for Lemon Cheesecake Bars is made in an 8 x 8 pan and uses tart lemon curd to give each decadent bite just the right amount of tang. Plus a simple water bath ensures a creamy, smooth cheesecake with no cracks. Perfect make-ahead dessert for brunches, showers or graduations!
Get the Recipe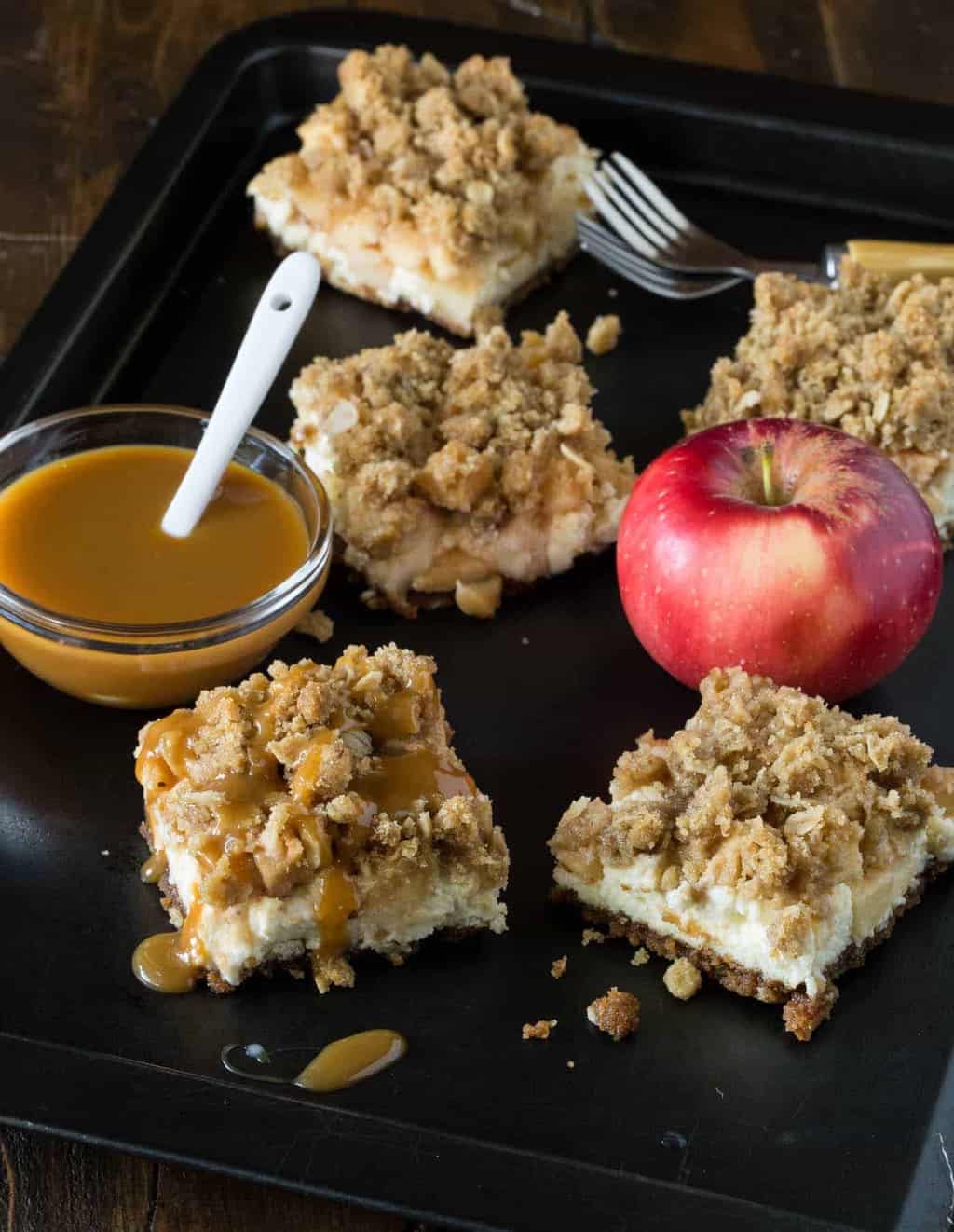 Caramel Apple Cheesecake Bars with Biscoff Cookie Crust
A pan of these delicious Caramel Apple Cheesecake Bars is always a hit at parties. Make a batch today for your next potluck!
Get the Recipe
What's the secret to smooth and creamy cheesecake batter?
Room temperature cream cheese. Start with that, and you will be on your way to the silkiest cheesecake bars ever. Promise.
Another tip? Take your time and beat the cream cheese until it's light and fluffy.
I beat mine in my stand mixer for a full 5 minutes. No cheating. 
Your patience is rewarded with smooth, silky cheesecake bars every single time.
What's the best way to prevent cracks?
A water bath. A water bath is an essential element of achieving creamy, evenly-baked cheesecake.
It sounds fancy, but a water bath is little more than putting your baking pan into another larger pan and filling the larger vessel with water halfway up the sides of your baking pan. (Think 8 x 8 pan inside 9 x 13 pan for visual reference.) 
A water bath helps to keep the baking temperature as consistent as possible during the baking process. Even, moist heat ensures the cheesecake is bakes at the same pace (no hard edges and underdone middle pieces).
Can you make gluten free cheesecake?
Absolutely! We have a couple of our favorites here, but you can always use gluten-free graham crackers for the crust in any cheesecake recipe with success! 
Our go-to brand for gluten-free graham crackers is Pamela's. (She also makes cinnamon and chocolate gluten-free grahams, too!)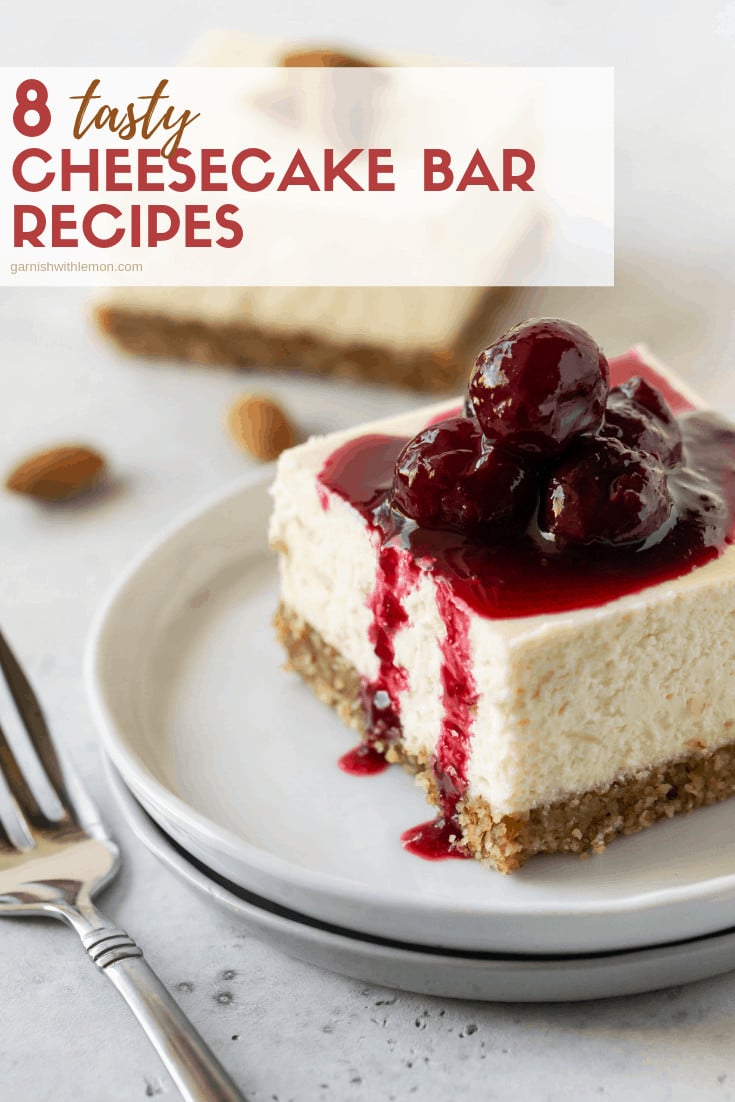 Did you find a new favorite? No matter the flavor, these Cheesecake Bar recipes are always a huge hit at parties and potlucks. Make a pan today!