Kids home from school for the summer? They are going to be hungry! Prep yourself for the constant requests for food with this list of 7 Smart Summer Snacks for Kids. 
I'm not sure who is more excited for summer break, me or the kids. Sure, they are pumped for no more homework, but I can't wait to have a reprieve from coaxing kids out of bed before the sun comes up and all the running around after school for practices and lessons. Bring on the lazy days of summer!
But even with all that enthusiasm, I'll admit I'm still a bit nervous about having the whole crew here. When you work from home like I do, you can be faced with constant interruption from your kids during the day. One of the most frequent requests (besides "I'm bored") is for something to eat. And let's be honest; it's pretty easy to cave in to the requests for potato chips and ice cream when you're trying to meet a deadline. But this year, I am ready for the inevitable disruptions. I created a menu of better for you snacks that the kids can take or make themselves. Post this list of 7 Smart Summer Snacks for Kids in your kitchen so you, too, are prepared to tackle those summer vacation munchies head on.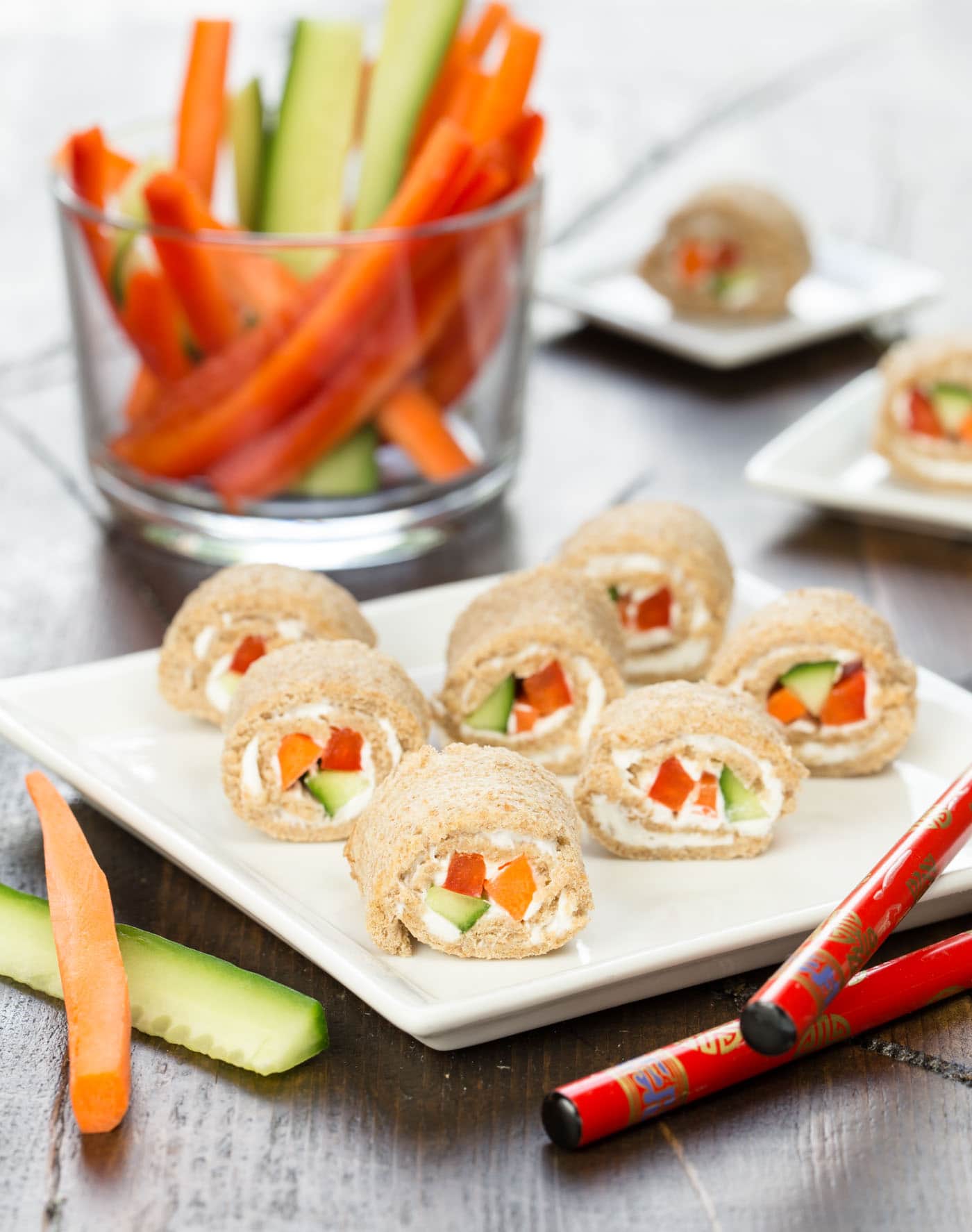 1. Veggie Sushi Rolls: Trying to get my kids to eat vegetables as a snack can be a hard sell, but there is no complaining about these fun and flavorful Veggie Sushi Rolls. Cut the crusts off a piece of bread, flatten with a rolling pin, spread with flavored cream cheese and top with a variety of colorful julienned veggies. Roll up and cut into pieces to mimic "sushi" rolls.
Make ahead tip: Prep the vegetables early in the week and store in the fridge so kids can make the rolls themselves.
2. Berry Green Smoothies: Spinach in a smoothie? It's totally optional, of course, but your kids might just think differently about eating their greens after one sip of these fruit-flavored smoothies – especially with a whoosh of Reddi-wip® on top! Plus my kids swear you can't taste the spinach. Honest.
Make ahead tip: Freeze vanilla yogurt in ice cube trays for perfectly portioned smoothie packs. Add 1/2 cup yogurt, 1/4 cup spinach, 3/4 cup berries and half a banana to individual sandwich bags and freeze. Write instructions on the bags so kids can simply pop all the ingredients for a smoothie in the blender whenever hunger strikes.
3. Muffin Tin Snacks: We talk a lot in our house about eating a variety of different foods, not just the ones you know and love. Though I might not have them eating the rainbow just yet, I can serve up snacks that are more well-rounded. These Muffin Tin Snacks are a great way to introduce new foods to your kids while also giving them some of their favorites. Place four different snacks in a muffin tin and store it in the fridge. When the kids get the munchies, have them choose one snack from each row.
Tip: Change up the snacks as often as you like. Consider offering a themed snack like all orange foods or even a make your own trail mix option.
4. Pizza Waffle Bites: Pizza is unanimously met with cheers at our house, so how could my pizza-loving crew say no to these savory Pizza Waffle Bites? They also earn bonus points for being easy to make thanks to some simple mix-ins to a store bought waffle mix. Just add 1 1/2 tablespoons dried pizza seasoning, 1 cup grated Parmesan cheese, 3/4 cup shredded Mozzarella cheese and 1/2 teaspoon garlic powder for every two cups of dry waffle mix. Prepare according to mix directions and serve with warm marinara or pizza sauce.
Make ahead tip: Freeze a batch of these waffles and let the kids reheat them in the toaster at snack time.
5. Apple Nachos: These nachos are the perfect munchie for those playdates with a larger group of kids. Slice a handful of apples, warm some Peter Pan® peanut butter and drizzle on top of the apple slices. Add some granola, honey or even other fruits like berries or bananas to create a crowd-pleasing snack for everyone.
Make ahead tip: Slice apples in the morning and squeeze fresh lemon juice over the top of the slices to keep them from browning.
6. Ranch Popcorn with Sunflower Seeds: Need a quick and easy alternative to the constant requests for potato chips? This Ranch Popcorn with Sunflower Seeds is a nod to our kids' favorite dipping condiment – ranch salad dressing. Jazz up that bag of Orville Redenbacher's Gourmet® Popping Corn with ranch seasoning and crunchy David® sunflower kernels for a portable, kid-friendly snack that will keep their bellies full until dinner. Simply mix 2 tablespoons of melted butter with 2 teaspoons of ranch seasoning and drizzle over popped corn. Sprinkle liberally with sunflower kernels.
Make-ahead tip: Double (or even triple the recipe) and store in an airtight container for easy snacking all week long.
7. Frozen Chocolate Peanut Butter Banana Bites: Need a refreshing snack on those sultry summer days? We think these Frozen Chocolate Peanut Butter Banana Bites are better for you than any frozen novelty, and our kids go crazy for them. Slice bananas into chunks and spread Peter Pan® peanut butter between two pieces of banana. Skewer banana chunks with a pretzel stick, dip in melted chocolate, sprinkle with chopped nuts and place on a cookie sheet lined with wax paper. Allow chocolate to harden and store in the freezer.
Tip: These addicting bites also make a great make ahead dessert option for your next BBQ.
Disclosure: This post was sponsored by ConAgra Foods. All opinions are my own. Thanks for supporting the companies that make Garnish with Lemon possible.