Stumped for easy side dishes? There is no tastier way to eat your veggies than these Roasted Vegetable Recipes. Packed with flavor but with only minutes of prep, you'll definitely be eating veggies more often.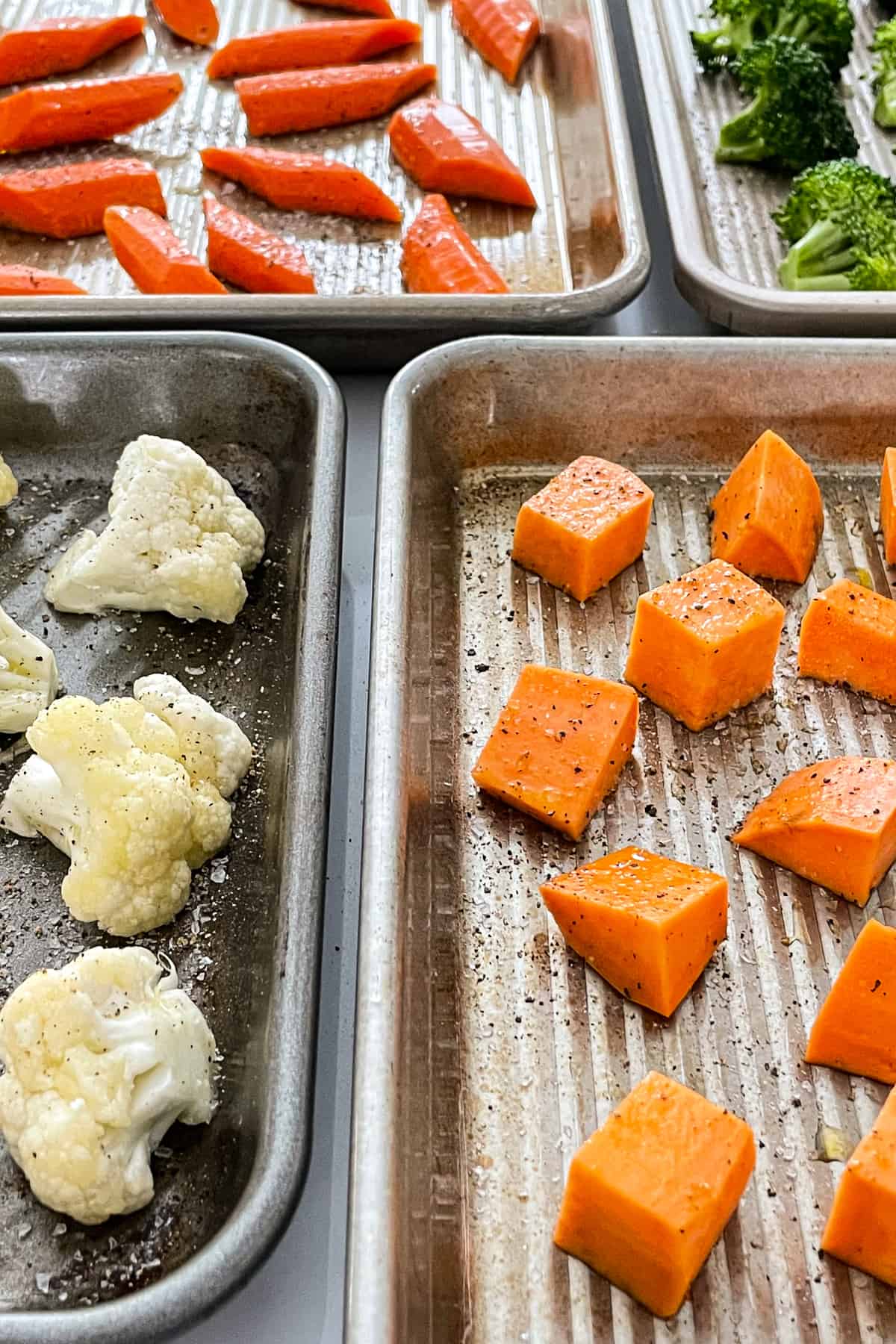 Something magical happens when you bake veggies in a high heat oven. The edges get crispy and browned, the insides get tender and the natural sugars caramelize and bring out the vegetable's natural sweetness. It's the BEST way to eat your veggies.
These Roasted Vegetable Recipes are packed with flavor but take only a few minutes to prep. They are a quick and easy side dish for any meal.
Trust us; healthy eating never tasted so good!
? This blog post is also available as a Web Story. ⭐️
Best vegetables to roast
You can bake nearly any vegetable from tomatoes to eggplant! The only adjustments you'll need to make will be to oven temperature, roasting time and seasoning.
The veggies we roast most often are root vegetables, such as squash, carrots, onions, garlic and any potatoes, as well as cruciferous veggies like broccoli, cauliflower and brussels sprouts. Zucchini and bell peppers roast very well, too.
How to roast vegetables
Though recipes can vary, there are a handful of common rules to follow when roasting veggies:
Use a hot oven.

Our go-to temperature for roasted vegetables is at least 400°F. High heat ensures you get a crispy, caramelized exterior and soft, fluffy interior.

Preheat your sheet pans while preheating the oven.

Placing your cut veggies on an already hot pan jumpstarts the cooking process and helps achieve that lovely sear and crunchy brown bits we all crave.

Cut your vegetables in similar sizes to ensure even roasting.

If you have uneven sizes, they will be cooked through at different times and some might burn before others are fully cooked.

Group vegetables according to cooking time.

It's tempting to try to fit everything on one pan but don't do it. All veggies have different cooking times. Veggies with a high water content (like zucchini) will roast much faster than veggies without as much water (like root vegetables). If you're roasting a variety of vegetables, place them on different sheet pans according to their various cooking times.

Don't crowd the pan.

You'll end up with steamed rather than roasted and caramelized vegetables because the veggies don't have as much air circulating around them. Use two sheet pans instead and rotate them halfway through cooking.

Stir or flip vegetables halfway through roasting time.

This ensures that they get browned and crispy on multiple sides.