Watermelon Mojito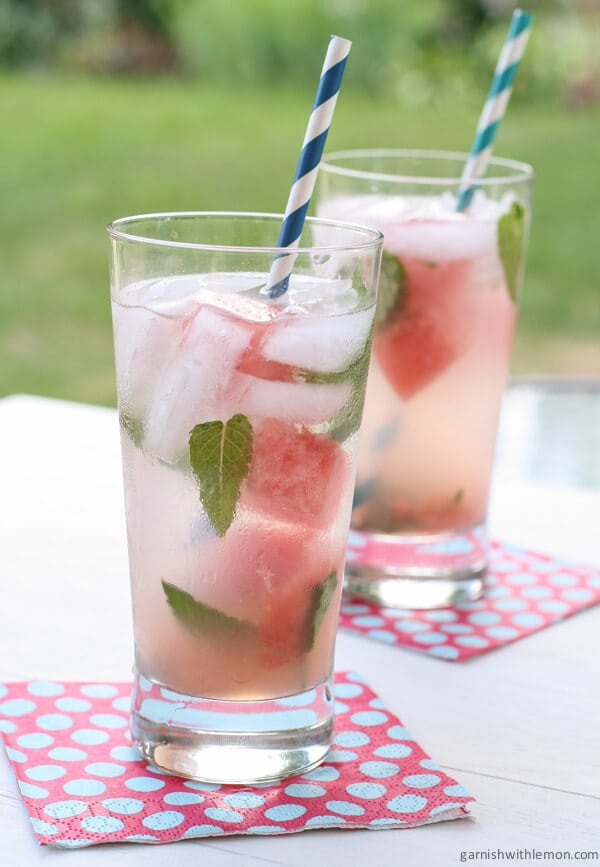 Watermelon. Mojito. Need I say more? 
C'mon, I know it's already August, but summer isn't over yet! Yes, there are school supplies to be purchased. And deadlines and late fees for fall activities are bearing down on us at every turn. But let's savor these last few weeks of visits to the pool, s'mores, bonfires and lazy nights in the backyard before the crazy school schedules start again. And what better way to appreciate these dwindling days of summer than with a refreshing Watermelon Mojito in hand? 
I always search for an average-size watermelon at the market, but I swear that melon multiplies once I start cutting into it. In short fashion, it fills nearly every large container I own! Fortunately we love watermelon, but that surplus requires a little creativity for how to use it all. I posted a savory use of watermelon last month with a Watermelon Feta Salad recipe, but this time it's all about the sweet. These Watermelon Mojitos are always a hit with guests and are a great use for that crazy grow-anywhere mint plant. 
Many mojito recipes use simple syrup (which is a fine substitute) but I prefer superfine sugar in my version. A quick stir with fresh lime juice dissolves it nicely, and then I muddle a bit of mint and watermelon together before adding the rum and club soda. Don't forget to float a few extra watermelon cubes in the glasses before serving. They are super tasty to snack on when the mojito is done.
Like it or not, school will be here before we know it, but this weekend you'll find me on the patio enjoying a Watermelon Mojito and watching the sun go down with my kids. Who's with me?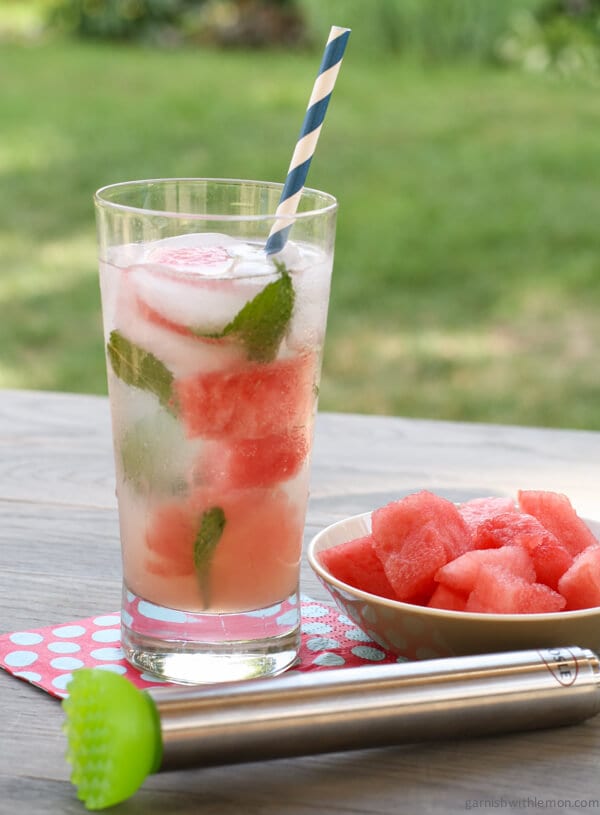 Watermelon Mojito
Ingredients
2 teaspoons superfine sugar
2 tablespoons fresh lime juice (juice of 1 lime)
1-2 bite-size watermelon cubes, plus extra for garnish
6-8 mint leaves, plus extra for garnish
2 ounces white rum
1 ounce club soda (or more to taste)
Instructions
In a highball glass, stir lime juice and sugar together until dissolved. Place mint leaves and watermelon cube(s) in bottom of glass and muddle together. Fill glass with ice and add rum. Top with club soda, and, if desired, more watermelon cubes and mint leaves. Gently stir and serve.