Appetizers are something near and dear to my heart.  I host parties where the only food served is appetizers. They are a staple in the menu when entertaining friends and occasionally (more often than I would like to admit) they ARE dinner for my husband and me after a late night at the office. (I'll make the kids a meal earlier and we will graze and share a bottle of wine when he gets home.)
Since they hold a special place in my recipe book, I'm always searching for new additions. I love chips..love dips….love salsas. I am not one who could happily survive on a low carb diet. Nope, not for me. 
Tomatillos are an ingredient that used to intimidate me. Do I roast them, char them, blanch them?? How do I pick a tomatillo and how many do I need to make a salsa?   There are so many tomatillo salsa recipes out there. This new find of mine is an absolute gold mine. Flavorful with a little zip, serve it with chips (or veggies for those a little more nutrient minded) and best of all…..5 ingredients and a blender. Yep, a blender….that is it! LOVE it….my new, go-to,easy app for friends and family. Crack a beer, grab some chips (or veggies) and enjoy!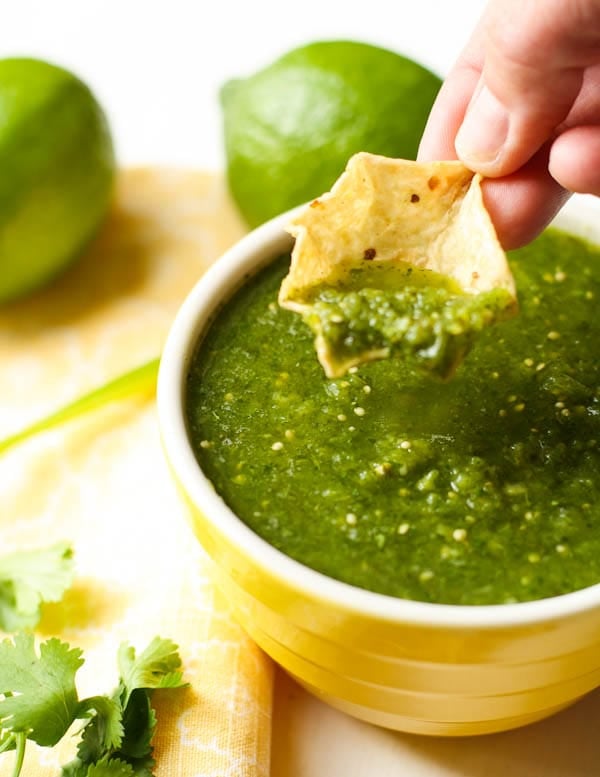 Tomatillo Salsa
An easy, no cook tomatillo salsa.
Author:
Adapted from All Recipes
Ingredients
8 Medium Tomatillos, husked, rinsed and quartered
2 jalapeños, sliced and seeded
1 clove garlic
1 cup fresh cilantro
1 teaspoon salt
Instructions
Put the tomatillos, jalapeños, garlic,cilantro and salt in a blender or food processor. Pulse until liquified. If it is too spicy, add a little lime juice to get to desired heat level. Season to taste with additional salt if necessary.
Keeps in the refrigerator for 3 days.
Notes
Use tomatillos that are a light green to yellow in color, they are sweeter than the dark green ones.
8 Medium tomatillos equals about 1 pound.
This salsa uses raw tomatillos, no need to cook.
Put the tomatillos in the blender first, it will be easier to puree.