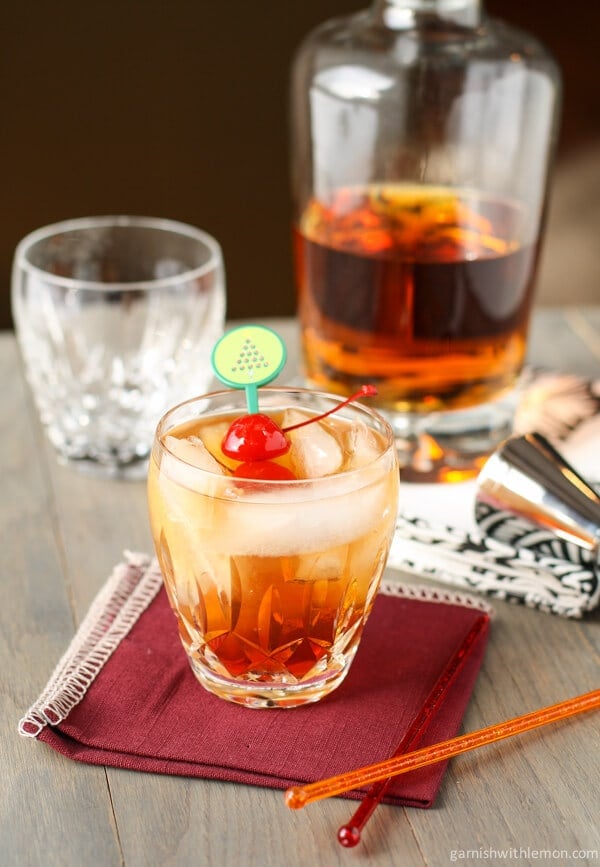 We are thrilled to have our first guest poster today on Garnish with Lemon. I've often talked about how Kevin, my husband, is the master mixologist in our house. Here is his behind the scenes story of the Manhattan Cocktail.
I am so honored to have been invited as a guest blogger for Garnish with Lemon and to write about one of my favorite topics – the Perfect Manhattan Cocktail.
I did a bit of Google research to prepare for this post. As legend has it, the Manhattan Cocktail was invented in the 1870's by Dr. Ian Marshall at The Manhattan Club in New York City at a banquet hosted by Lady Randolph Churchill (the mother of Winston Churchill). The drink became enormously fashionable as a result of that banquet, and, since the cocktail was not named then, people started referring it to as the Manhattan Cocktail because it was first served at The Manhattan Club. Controversy remains about the drink's origins, but there is no question in my mind that this is one of the best cocktails out there, especially this time of year.
A Manhattan is essentially a Whiskey martini. There are several variations on the Manhattan, but my personal favorite is this Perfect Manhattan. It is simple to make with only 5 ingredients, all of which I make a point to keep on hand. I usually serve the drink in a low ball glass on the rocks, but serving it in a martini glass makes for a nice presentation as well.  Growing up in Wisconsin, my mother would drink a Brandy Manhattan from time to time, but I have to say I'm not a big fan of Brandy, so I'm sticking with Whiskey.  
Speaking of Whiskey, options include Canadian Whisky, American Whiskey (Bourbon or Rye) or even Scotch. I'm partial to Bourbon in my Manhattan, particularly Maker's Mark, Bulleit, or new favorite Rowan's Creek Small Batch Bourbon. Maker's Mark was allegedly created for the purpose of being the best bourbon for a Manhattan. I'd have to say I agree.
The drink is great any time of the year (think summer on the back patio with a cigar pretending to be Don Draper from Mad Men). But for me, the presentation, the flavor, and the red cherries all remind me of Christmas. There is nothing better on a cold winter's night than sitting by the fire and sipping a wonderfully smooth and delicious Manhattan. Cheers.
Yields 1
Perfect Manhattan Cocktail
5 minPrep Time
5 minTotal Time
Ingredients
3 ounces Whiskey (I prefer Bourbon)
1 capful Dry Vermouth
1 capful Sweet Vermouth
1 dash of Angostura Bitters
2 drops of cherry juice (from Maraschino Cherries)
2 Maraschino Cherries, for garnish
Instructions
Place ice cubes in a low ball glass and add first five ingredients. Stir and garnish with cherries.
Notes
In sticking with the tradition and history of the drink, the Manhattan Cocktail should always be stirred, but shaking and serving it in the martini glass is a good option as well.
http://www.garnishwithlemon.com/perfect-manhattan-cocktail/