Still looking for gift ideas for that special someone? Lisa and I dish about some of our favorite things. Hope you find some inspiration (and maybe one or two things to add to your OWN list!).
Anna's Favorite Things:
NorPro Kitchen Scoops: How did I bake without these before? These spring release scoops take all the guesswork out of shaping and baking cookies, cupcakes and muffins. I even use the big one for the frosting on these Chocolate Ganache Cupcakes with Italian Meringue Buttercream Frosting. Seriously, these are indispensable tools in my kitchen.
Spiegelau Vino Vino Bordeaux Wine Glasses: Now I'm not a wine snob by any means, but I do love me a good wine glass. Perhaps it makes my $10 bottle of wine feel so much fancier than it really is, but I love the feel of these glasses in my hand. They are tall but not obnoxious, and (knock on wood) I've yet to break one in the dishwasher. I can't say the same of some of my other, cheaper glasses.
Athleta Relay Capri Pants: These are my go-to pants for Yoga and Barre classes. I've owned many different brands, but I love these for their wide waistband that hits me at the perfect spot on my body – not so high waisted that they look like "mom pants" but seated just below my navel to keep my "mom belly" from spilling out. They are super comfy, completely opaque (ahem!) and have these strategically-placed seams that are visually slimming.
Urban Halo headbands: Yes, I use these when I work out, but I also find them incredibly handy on those days when I don't wash my hair. They make me feel a bit more pulled together. The best part is they don't slip out of your hair like so many other headbands. They also don't pinch or bind your head in any way. Not to mention that their ever-rotating selection of patterns is just awesome.
Bobbi Brown BB Cream: My kids always laugh when I "look fancy" for the day (which is code for taking a shower and doing something with my hair). So you can probably surmise that I don't wear a ton of makeup normally. This BB cream is the best I've found for maintaining the natural look I love but still giving me coverage for my less-than-porcelain skin. I don't even feel like I'm wearing makeup when I have it on, plus it has an SPF of 35 built right in.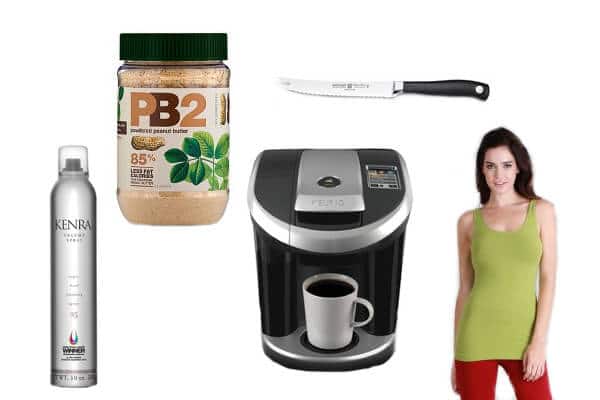 Lisa's Favorite Things:
Kenra Hair Spray:  I have been using this hairspray for years. Seriously, it is THE best. Every time I try something else, I always go right back to Kenra. Perfect amount of hold without the helmet look. Oh, and it never flakes either. Seriously love.
NikiBiki Tank Tops:  There is a running joke among my friends about these tank tops, mainly because I have one in every color under the sun (might be time for an intervention!). I wear one every.single.day. Love how long they are and how they help hold in the muffin top.
Keurig Vue Coffee Maker:  I ran out of coffee pods for my Keurig Vue last week, and it made me realize just how much I love this machine; I was lost without them. 🙁 I love having total control over the temperature and strength of my coffee. Nothing starts my day off better than a good, strong, hot cup of coffee. All coffee lovers need one of these under the tree.
PB2 Powder:  Have you ever tried this stuff? It is A-Mazing – especially if you are a peanut butter freak like I am. I add this in my smoothie every day and get the yummy peanut butter flavor without all of the calories.
Wusthof Tomato Knife:  This is way more than a tomato knife. Kevin and I use it for almost everything, making it (along with my paring knife and my cooks knife) one of the most used items in my butcher block. The serrated edge makes it perfect for cutting the crusts off my daughters sandwiches (yes, I know), tomatoes and fresh mozzarella. Caprese anyone?
Happy Shopping!