Black Bean Chipotle Dip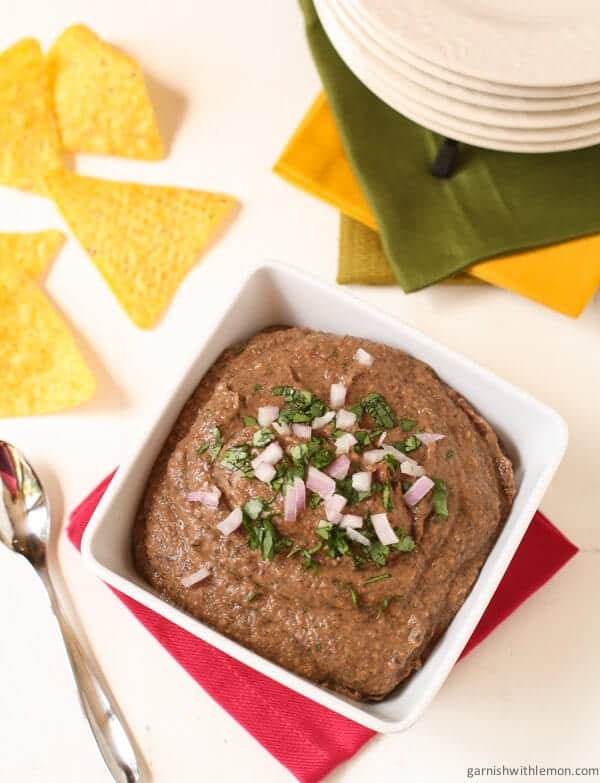 It's here….September. How did that happen? September means a lot of things: schedules, homework and the end of lazy summer days. School starts tomorrow in Minnesota, and I think we are ready. But before the back-to-school craziness starts, we are relaxing today, and this Black Bean Chipotle Dip is on the menu. Smoky, flavorful and finished with a touch of heat, it is addictive and great for a group.
We are huge fans of appetizers in our house (especially anything that can be eaten with a chip!) With football season in full swing, there are plenty of opportunities to bring a snack to share with the gang, and football parties are a perfect excuse for me to make this again and again. If you're not a dipper, try jazzing up your burritos, tostadas, nachos or quesadillas with this Black Bean Chipotle Dip. It's also a great way to sneak in some extra protein to all of those Meatless Monday meals, especially when you're rushed to feed a hungry family. 
Speaking of getting dinner on the table quickly, another thing September brings is the harried dinner hour. Homework, sports and other activities always make meal prep crazy. Last spring, Anna and I compiled 15 of our families' favorite weeknight meals in an ebook, The Well-Stocked Pantry. These reliable recipes use the grocery staples we buy on regular basis to help get dinner on the table quickly. During the month of September, get your own copy of The Well-Stocked Pantry for only $1.99, a 60% discount off the regular price! Simply enter the discount code "BackToSchool" during checkout. 
The transition to a new school year is always a bit rough on everyone. Give yourself a resource to make mealtime easier. Every little bit helps. 
Black Bean Chipotle Dip
Author:
A Garnish with Lemon Original
Ingredients
2 cans black beans, rinsed
1 cup cilantro
2 teaspoons garlic
½ teaspoon cumin
½ teaspoon salt
2 tablespoons olive oil
Juice of ½ lime
2 whole chipotle peppers, packed in adobo sauce
1 seeded chipotle pepper, packed in adobo sauce
2 teaspoons adobo sauce
Instructions
Place all ingredients in a blender and mix until combined. If a thinner consistency is desired, add additional olive oil tablespoon by tablespoon until desired consistency is reached. Chill until serving.
Serve with chips, pretzels or vegetables. Also can be used on a tostada or in a burrito for a meatless meal.