Grilled Peaches with Mascarpone, Pistachios and Balsamic Glaze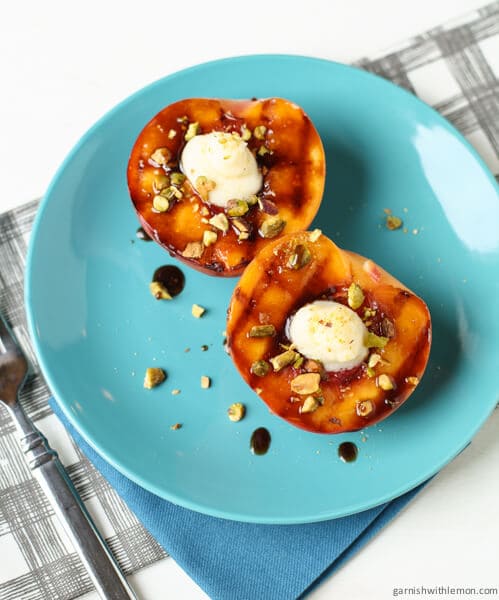 Ripe peaches have such a beautiful, intoxicating aroma. There are few experiences that capture the essence of summer more distinctly than biting into a fresh peach and having the sweet juices run down your chin. But when you live this far north, fresh peaches are really only available for a short time in the summer. So I do what any self-respecting peach lover does this time of year: I buy them by the box and eat to my heart's content. 
And cook. 
And bake. 
But grill? Never….not until now. Introducing my new favorite summer dessert: Grilled Peaches with Mascarpone, Pistachios and Balsamic Glaze. 
Trust me, the name sounds far more complicated than this recipe truly is. When you buy ripe peaches, most of the work is already done for you. A few moments of prep can help you have this dessert on the table in 10 minutes flat. A brief turn on the grill amps up the natural sweetness and juiciness of the peaches. Drizzle a rich and tangy balsamic vinegar glaze over the warm fruit, spoon a bit of sweetened mascarpone cheese on top of each half and garnish it all with a sprinkling of salty pistachios. That's all there is to it. A super easy dessert that showcases the flavors of the dish's simple ingredients in each bite….and begs for extra napkins to mop up all of that juicy peach goodness.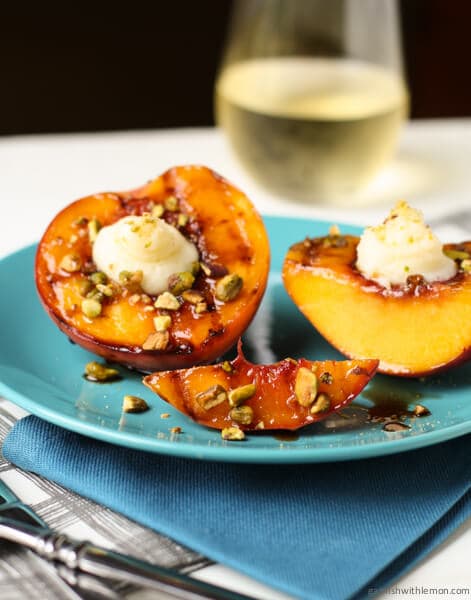 Grilled Peaches with Mascarpone, Pistachios and Balsamic Glaze
Ingredients
2 tablespoons balsamic vinegar
4 tablespoons brown sugar
2 tablespoons melted butter
2 ounces mascarpone or cream cheese
¼ cup powdered sugar
¼ teaspoon vanilla
4 large ripe (but not overly soft) peaches, halved and pits removed
2 – 3 teaspoons grapeseed oil (or other neutral tasting oil)
Handful of pistachios, lightly crushed
Instructions
In a small bowl, whisk together vinegar, sugar and melted butter. Set aside.
In another small bowl, combine mascarpone (or cream) cheese, powdered sugar and vanilla and beat with a hand mixer on medium speed until light and fluffy. Set aside.
Preheat grill pan over medium low heat. Gently brush each peach half with oil and place it cut side down on the grill pan. Cook for 2-3 minutes. Use tongs to carefully rotate peaches a quarter turn and cook for another 1-2 minutes. Remove peaches from grill pan. Cool slightly.
When ready to serve, drizzle balsamic mixture over peaches and spoon a small scoop of cheese mixture into the hollow of each peach. Sprinkle with crushed pistachios.
Notes
I used my indoor grill pan to make these on the stove. You can just as easily make them on the grill, but make sure your grill grates are VERY clean before you begin. Nothing ruins a sweet dessert faster than the remnants of your last meal.