Chocolate Marbled Banana Bread
Around here, school doesn't start until after Labor Day, but I know that's not the case for many of you around the country. I grew up in Nebraska, so I remember the sweltering days of staring school in mid-August. Our school didn't have air conditioning, so we'd often start the day only to be sent home midway through because of the heat. I loved those days as a kid – it felt like we just received a "get out of jail free" card – but I know it always drove my mom nuts. Just when she thought she had the house to herself, we were baaaaaack! In honor of all those kids returning to school this month, I wanted to share my family's favorite school-day breakfast: Chocolate Marbled Banana Bread.
I wish I could admit that I serve my kids a fresh-from-the-oven breakfast every day, but that's far from the truth. Most days we're slurping down cereal and oatmeal as we hustle out the door. But I usually make the effort at least a few times a month to bake this Chocolate Marbled Banana Bread. It combines two things that both my kids love – bananas and chocolate – so I know there will be no arguing about eating something for breakfast. This recipe is easily doubled, and the extra loaf can be frozen for later use. I love having it in my back pocket on the days when I know getting my kids out of bed is going to require a little extra coercion. Would you call that bribery? Maybe, but having one less battle to face in the morning is totally worth it.
Do you have any tried and true breakfasts that help your kids pop out of bed rather than pull the covers over their eyes? Share with us!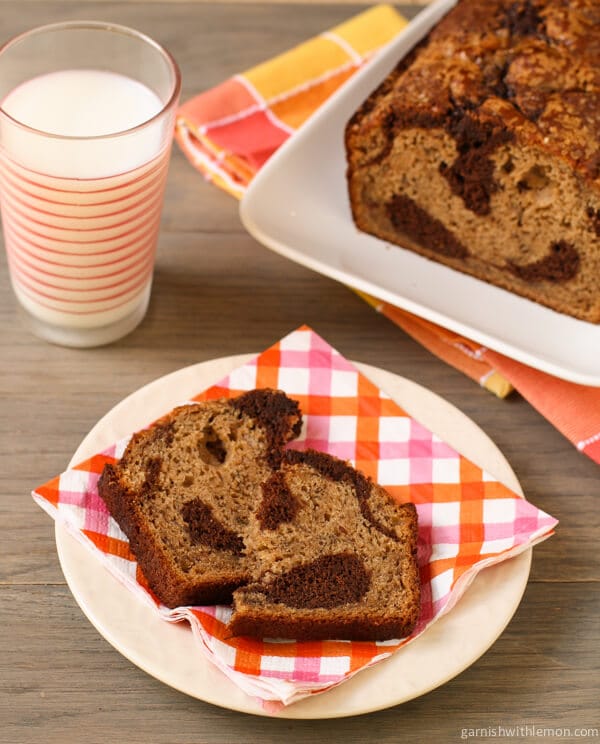 Chocolate Marbled Banana Bread
Author:
adapted from Cooking Light
Ingredients
1⅓ cups all-purpose flour
⅔ cup whole wheat flour
¾ teaspoon baking soda
½ teaspoon salt
1 teaspoon ground cinnamon
½ cup granulated sugar
½ cup packed brown sugar
¼ cup butter, softened
1½ cups mashed bananas (about 3 bananas)
2 large eggs
⅓ cup plain yogurt or sour cream
1 teaspoon vanilla extract
½ cup semisweet chocolate chips
Turbinado sugar for topping (optional)
Instructions
Preheat oven to 350 degrees. Grease loaf pan and set aside.
In a small bowl, combine flours, soda, salt and cinnamon. Whisk until combined. Set aside.
Place granulated and brown sugars and butter in a large bowl and beat with a mixer on medium speed until combined. Add bananas, eggs, yogurt or sour cream and vanilla to bowl and mix together for another 30 seconds. Gently add flour mixture to banana mixture and stir together until just combined.
In a microwave-safe bowl, heat chocolate chips on high for 1 minute. Remove and stir until smooth. Set aside to cool slightly.
Add one cup of banana bread batter to the cooled chocolate and stir until thoroughly mixed.
Alternately spoon chocolate batter with plain banana batter in loaf pan. Gently swirl batters together using a knife. Sprinkle with turbinado sugar, if desired.
Bake for 50-60 minutes or until toothpick poked in center of loaf comes out clean. Cool in the pan for 10 minutes and then remove from pan. Continue cooling bread on wire rack.
Notes
This makes one large 9″ x 4″ loaf. You can always use 2 cups of all-purpose flour if you don't have any whole wheat flour on hand. The turbinado sugar on top is completely optional, but I love the slight crunch it gives the bread after baking.