Crispy Wonton Cups with Summer Salsa and P.F. Chang's Flavors of Summer Sweepstakes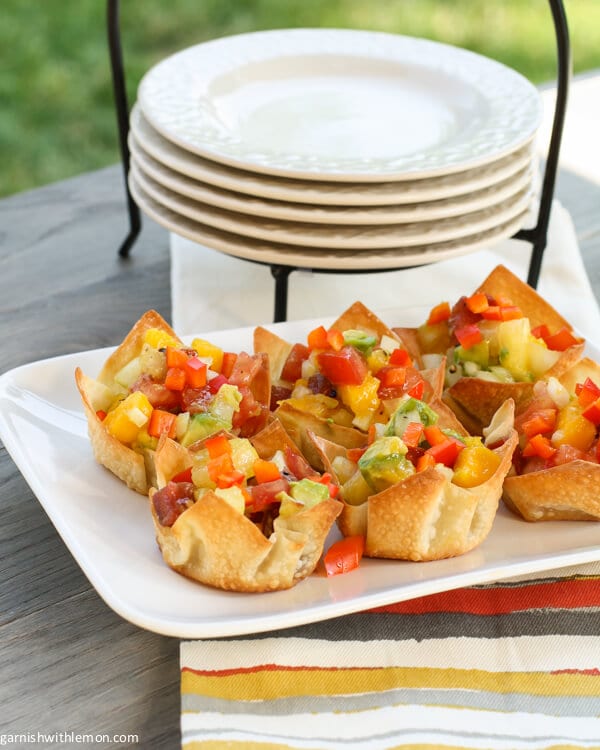 There are a few criteria that must be met before we officially welcome Summer at our house. The kids must be out of school (Yep). We need to have gone swimming at the local pool (Done). Suffered our first of many mosquito bites (Ouch!). And my favorite right of passage? The opening of the farmer's market. Some of our favorite summer memories are from lazy evening meals made with foods fresh from the farmer's market. But like any family, we are busy with work, kids' activities, camps and weekend travel, and we can't always make it to our local market. Lucky for us, P.F. Chang's has rolled out a new summer menu that is bursting with all of the fresh summer flavors I crave this time of year but don't always have time to make myself.

I used to work not far from our local P.F. Chang's. Their lettuce wraps were always a tasty excuse to get out of the office, so I was delighted when they asked us to help them promote their new summer menu. One look at P.F. Chang's summer entrees, and you can tell they are filled with the freshest seasonal produce…totally my kind of eating. (I'm dying to get my hands on that Heirloom Tomato and Thai Basil Salad!) And to celebrate these new additions to their menu, P.F. Chang's is offering a Flavors of Summer Sweepstakes on Pinterest. You can win $50 gift cards to P.F. Chang's every day during the month of July. They are even giving one lucky winner a $500 P.F. Chang's gift card simply for creating an Asian-inspired dish that uses at least 3 of the ingredients featured in their new summer menu. Wouldn't that be the best? To enjoy the fresh flavors of the farmer's market AND have someone else make it for you? Heaven! You can learn more about how to participate in the Flavors of Summer Sweepstakes by clicking here.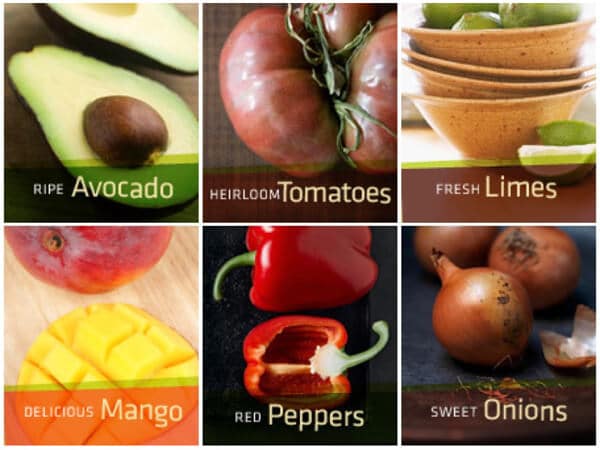 Lisa and I were so inspired by the gorgeous pictures of ingredients used in P.F. Chang's summer menu that we created an appetizer to highlight our favorite flavors of summer. We chose mango, sweet onion, avocado, lime, red peppers and heirloom tomatoes and came up with a gingery summer salsa in a baked wonton cup. I think they look like little bowls of summer on the platter, don't you? These Crispy Wonton Cups with Summer Salsa are both sweet and savory and are ideal finger foods to enjoy with family and friends as we squeeze every last moment (and flavor) out of summer. 
 Disclosure: This is a sponsored post on behalf of P.F. Chang's. All opinions expressed are my own. 
Crispy Wonton Cups with Summer Salsa
Ingredients
Wonton cups
16 refrigerated wonton wrappers
Olive oil spray
Kosher salt
Dressing
2 tablespoons extra virgin olive oil
1 tablespoon fresh lime juice
1 teaspoon honey
1 teaspoon freshly grated ginger
¼ teaspoon kosher salt
Freshly ground black pepper
Salsa
1 mango, peeled and diced
3 medium-sized heirloom tomatoes, seeded and diced
½ medium sweet onion, diced
1 avocado, diced
⅓ cup diced red pepper
Kosher salt
Freshly ground black pepper
Instructions
Wonton Cups:
Preheat oven to 375 degrees.
Lightly spray the inside of 16 muffin cups. Gently place the wonton wrappers in the muffin cups and press to fit. Lightly spray the tops of the wrappers and sprinkle generously with kosher salt. Bake for 6-8 minutes or until golden brown. Cool and remove from pan.
Dressing:
Whisk together all ingredients and set aside.
Salsa:
Gently combine mango through avocado in a medium-sized bowl. Add salt and pepper to taste.
Place wonton cups on a platter and evenly divide salsa in cups. Evenly drizzle salsa dressing over each cup and sprinkle with diced red pepper.
Notes
The wonton cups can be made in advance and stored in an airtight container until ready to use.